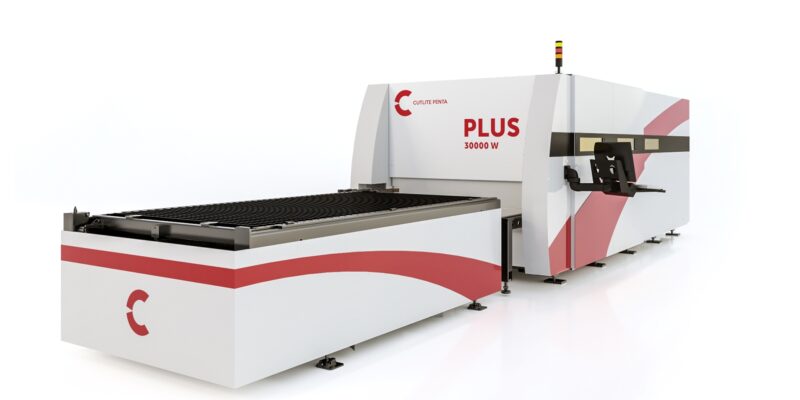 Leading supplier of quality structural steel and plate processing equipment, Ficep UK, has introduced Cutlite Penta's state-of-the-art PLUS laser system for metal cutting with resonators up to 30kW in power to the UK market.
Ficep UK has become the exclusive UK agent for the Cutlite Penta PLUS lasers with up to 30kW of power for metal cutting. With a working area of up to 15m by 3m and offering processing of thick capacity stainless steel and mild steel up to 50mm, the PLUS is a powerful option for applications involving heavy engineering.
Suitable for processing thick capacity steel, the PLUS system combines high-performance levels, structural robustness, and increased efficiency. Its linear motor drive provides highly responsive dynamics, enabling excellent productivity even on extremely complex geometries, whilst its low energy consumption – which is typical of this technology – makes it the most effective solution in productive and environmental terms.
Handling quality is guaranteed by the finest linear motors available on the market which, along with the fibre laser source, achieve the highest levels of accuracy in cutting both carbon and stainless steels. Its ease-of-use and high processing speed also increase productivity and at the same time ensure highly optimised, repeatable and dependable results.
The smooth dynamics of the cutter head delivers cuts with low pressures, resulting in a considerable saving in manufacturing costs. Its EVO 3 cutting head is equipped with a contact-free capacitive sensor and its optional bevel head can rotate up to 45 degrees in both cutting directions, and also an automatic nozzle changer.
Says Chris Berriman, Ficep UK Sales Director, "We are delighted to become Cutlite Penta's exclusive agent for the PLUS and heavy duty range of laser systems and to bring this high-performance laser to the UK market. It complements our range of cutting systems and allows us to meet the needs of metal processors who require a system which can cut thick capacity steel at a greater speed, with high levels of accuracy.
"One of the laser's many strengths is its unique ability to focus power into a very small area. This makes the laser the ultimate technology in accuracy and quality in metal cutting. The PLUS is the go-to laser cutting option when heavy engineering requires a quality finish and when fast processing speed is vital. We're very excited to bring it to market."
Cutlite Penta is renowned as a leading designer and developer of high-tech and high-performance fibre laser systems for metal cutting. Its range of machines is reliable, innovative and user-friendly and focus on operating needs to support customers with even the most difficult processing tasks.