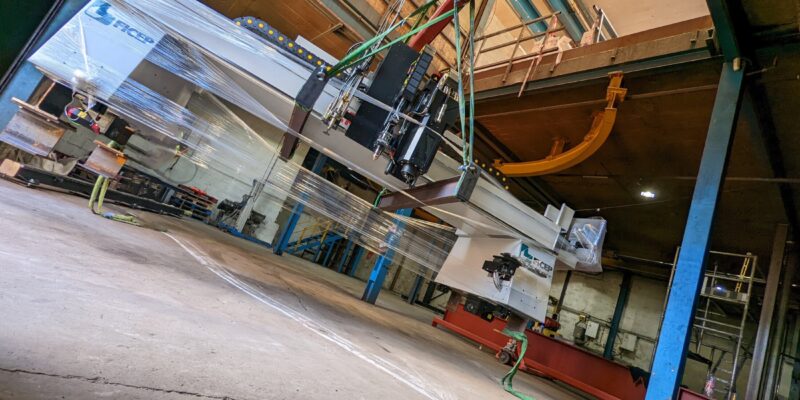 Ficep UK has completed the installation of its Kronos system at John W. Laycock which will help the business build on its success and expand its offering as a steel service provider.
Established in 1740, John W. Laycock provides steel services to businesses and domestic customers across the UK, including cutting, drilling and fabrication. At the end of 2021, the business made the decision to add to its services and offer inhouse profiling services, having outsourced profiling services in the past.
Waiting for thermally cut profiles for fittings to arrive had become an obstacle and the business wanted to regain control and improve lead time, cost and quality for its customers, whilst still working with a number of trusted suppliers. The business contacted Ficep, who recommended the Ficep Kronos due to the production benefits it would bring, its footprint and flexibility.
Upon delivery, the machine was lowered six metres through an opening into the basement of John W. Laycock's new two-storey premises in Keighley, West Yorkshire, which the business acquired specifically for this project at the end of 2021. The machine was officially commissioned and signed off in July 2022. The company took time to put new procedures and health and safety in place, and also invested in a new overhead gantry crane to allow for safe movement of material.
The Kronos heavy-duty gantry-style thermal cutting system integrates all cutting, drilling, and marking processes into one single operation to reduce material handling cost. It will enable John W. Laycock to better service its customers and offer competitive lead times on any quantity, from single pieces to multiples, one offs and repeat customers.
Mark Sugden, fifth generation John W. Laycock managing director, says: "We are keen to grow on our successful foundation by offering this new service. It was clear from the start that Ficep understood our market position and future opportunity for the growth of our business, and they had an immediate recommendation for the machine we needed. Our existing system operators are stepping into a new challenge and we've taken on two new people to fill the gaps. We are confident we now have the right people and the right system to make the new service a great success."
Jonathan Harbison, Ficep UK's senior project engineer, says: "This is the first of a new generation of CNC control systems and it has been an installation like no other. The logistics of building a complex CNC system in a restrictive space – especially lowering the Kronos down a six metre opening – was challenging. But, with the skills and experience of our team, the support of Laycock's operators and the use of specialist equipment, the installation went smoothly and was completed on time. We look forward to hearing how the machine is helping the business to move forward in the future."