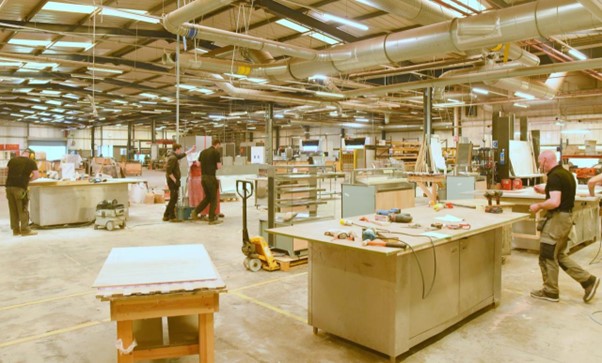 Victor Manufacturing Ltd in Keighley, West Yorkshire, has established itself as a leading supplier of equipment for the catering, hospitality, and retail sectors, specialising in both standard and custom equipment and counters to ensure food is at optimum temperature at the point of service.
The company started life in central Bradford, manufacturing paint tins, and dryers for tea towels back in 1947. Today, Victor has grown to a business with a turnover approaching £12 million, and responsible for employing over 125 people. Throughout its long and prominent history, the brand has built a reputation for quality and flexibility, maintaining both through its 75 + years in business.
In 2018 the company underwent a management buy-out and is now owned by Phil Williams, with several of the Williams family working alongside him, including his wife Sharon, children Aaron and Faye and her husband Robert. Prior to becoming owner and MD, Phil held the post of Managing Director, and has over 22 years' service as a Victor employee
The company relocated towards the end of 2020, moving the 11 miles from Bradford to the outskirts of Keighley. The new factory site spans over 108,000 square feet and has both enabled expansion and resulted in a more practical layout of both factory and office block.
Agile Response
During the pandemic, whilst many businesses either made the decision to, or were forced to, close, Victor Manufacturing committed to remain open to satisfy demand for essential front line care service, retail, and education supplies.
One of the major projects undertaken during the first few months of the pandemic was winning the contract with a major high street chain, who specialise in selling coffee and baked goods, to provide them with COVID-19 screens made from glass with metal frames, overcoming a shortage of Perspex as the demand for that material caused supply issues and increased costs.
Contracts to supply equipment for Nightingale Hospitals were also of great importance as the UK responded to the rapid changes brought about during the pandemic. These examples are only a example of the strategy of customer-led innovation that has enabled Victor Manufacturing to continue to develop products and offer complete solutions which simplify the supply chain for clients.
Success Factors
Looking at the primary reasons why Victor Manufacturing have remained in business and continued to grow through many challenging decades for UK manufacturing, there are a few obvious pointers that account for their success. Firstly, their products are manufactured to a high quality and are designed to have a long lifespan. All products are supplied with a full 2-year parts and labour warranty as standard. Where they are installed in retail, healthcare, or educational establishments, it is not uncommon to find Victor counters or hot cupboards still in daily use some 20 years later. The lure of being a UK manufacturer is an important advantage, enabling reduced delivery costs and improved after-sales support, and as all research and design work is carried out in-house, clients can find additional products and more complete solutions all from one source.
Current Challenges
With pressure on fuel and transportation costs as well as raw materials (including steel and glass) being subject to extreme buying conditions, it has been difficult to minimise price increases across the product portfolio. Suppliers are facing material shortages and increased lead times for components, so it has been a challenge acquiring some items from Europe and the far East. Alternative parts are having to be sourced closer to home, at a greater expense. Taking these difficulties into account, one way to control costs is to maximising efficiency in all areas.
Beneficial Automation
The sheet metal fabrication division at Victor Manufacturing includes one Bystronic 6 kW fibre laser cutting system which has been recently fitted with automation, including storage tower with automatic loading, and unloading, which feeds 6 Bystronic press brakes where laser cut sheets are folded into shape. Upgrading the automation and software and standardising the Bystronic platform has allowed the night shift to run automatically, reducing the number of skilled operators required in this department. The overall capital upgrade has increased capacity dramatically over the past 2 years. Choosing Bystronic as a supplier has enabled easy control of software and automation and builds on the experience gained with the Bystronic team and the historical use of press brakes from the same stable. Introducing a robot to load one of the press brakes is something which will further automate the folding process for repetitive parts (sometimes 500 identical parts with 4 folds are required, which would require a dedicated operator to load and unload without a robot.)
Next Steps
Introducing a robot to load one of the press brakes is something which will further automate the folding process for repetitive parts (sometimes 500 identical parts with 4 folds are required, which would require a dedicated operator to load and unload without a robot.)
To further improve throughput of the sheet metal fabrication, one of the next steps is to bring a powder coating capability in-house. Space is available within the new site, and this will improve the cost and lead time of currently outsourced coating and painting of sheet metal work. Further investment in capital equipment will include a CNC router and an additional 3-metre press brake to handle the larger folding requirements.
New Developments
The introduction in March 2022 of a new range of refrigerated multidecks, specifically developed with large bakery chains as the target customer, has further improve the product offering to Victor's clients. In addition, they have also recently established a purpose-built welding area to manufacture general fabrication, to allow back-of-house refurbishment of kitchens for clients, with Victor able to supply all the equipment required to complete the refurbishment including custom carpentry, HVAC systems and lighting.
Leadership
In addition to his duties for Victor, Phil Williams serves as President of EFCEM (European Federation of Catering Equipment Manufacturers) following many years as an active member of the council of the FEA (Foodservice Equipment Association), the UK trade association which enables Victor Manufacturing to steer the direction of the industry and keep up to date with new trends and developments in this rapidly changing market.
Future
Expanding the capability of supply to the commercial catering equipment sector and using the latest in manufacturing equipment allows Victor Manufacturing to secure large contracts and deliver high quality products which boast accurate control of temperature. New opportunities in the food and drinks sector are on the horizon to ensure the continued growth and success of this outstanding UK manufacturer. Trends in the industry towards "grab and go" and an increase in vending or self-service environments create new demand in this important sector, with Victor Manufacturing is perfectly placed to support.