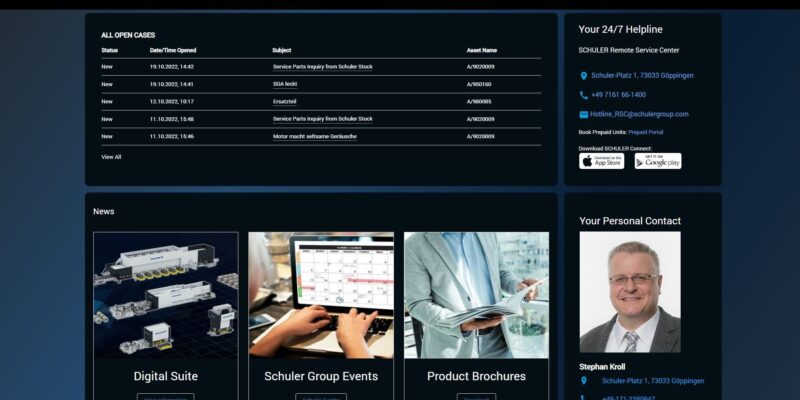 Schuler now offers its customers a web-based overview of their equipment, current contracts, hotline cases, and spare parts in stock.
Service customers know that they can get everything from a single source at Schuler: from fast help around the clock to spare parts service, repair and maintenance services, modernizations and used presses as well as digital solutions. All of this is now also available online via smartphone or tablet: At the EuroBLECH trade show in Hanover, Schuler has launched a service portal that can be accessed anytime and anywhere. It is part of Schuler's Digital Suite and, just like the press manufacturer's other applications for networking forming technology, can be accessed via digitalsuite.schulergroup.com – from mobile devices as well as from the PC workstation in the office.
Similar to the customer portals of banks, insurance companies, cell phone or electricity providers, the Schuler Service also offers important information at a glance. Which contracts are currently running? Which maintenance or inspection was carried out on which press in the machine park? What is written in the log? Customers can find the answers to these questions here – and, if necessary, open a new service case right away. They can also find out whether a spare part is in stock and submit a request for it.
"On our service portal, everything can always be found in one place," says Service Managing Director Torsten Petrick, summarizing the advantages. "Our customers no longer have to gather the necessary information themselves, but instead receive everything presented neatly by us. This saves time and simplifies the administration of a press shop enormously."