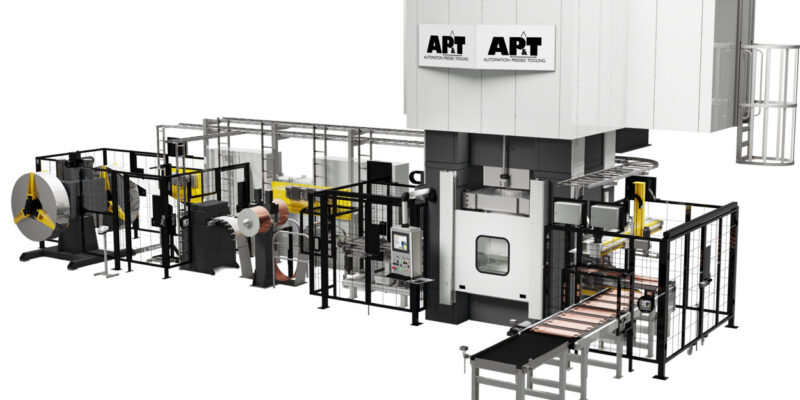 The global demand for heat exchangers for heat pumps and refrigerating systems is rapidly growing. For AP&T, this entails increased demand for turnkey production lines for manufacturing heat exchanger plates. Part of these lines is AP&T's servohydraulic press, which consumes up to 70 percent less energy than conventional hydraulic presses.
"The low energy consumption of our servohydraulic press makes it a highly interesting option for manufacturers of heat exchanger plates, not only financially, but environmentally," says Mikael Karlsson, AP&T's Product Manager of Presses.
Aside from having low energy consumption, the servohydraulic press is also considerably quieter. In addition, it only requires a tenth of the hydraulic oil needed by a conventional hydraulic press.
AP&T's turnkey lines also include all the necessary equipment needed for e.g., coil feeding, stacking, destacking, straightening, cutting and embossing.
"We deliver a complete, fully automated solution with well-proven standard components that are designed to work perfectly together, in all conditions. There is a high rate of production in this segment, and manufacturing often goes on 24/7. This makes great demands on operational reliability and machine availability."
The majority of AP&T's customers in this segment manufacture brazed heat exchanger plates. But the company also supplies equipment for producing large gasketed heat exchanger plates, which require considerably greater press force.
"We have been developing production solutions for all kinds of heat exchanger plates since the 1980s and have a broad, in-depth total offering. As One Responsible Partner® we are constantly striving to provide our customers with the right conditions for efficient production throughout the life cycle of the equipment. We do this through high-quality, energy-efficient products, optimized services and strong personal dedication," says Karlsson.
Facts
Complete production lines for brazed or gasketed heat exchanger plates.
The concept, based on well-proven standard modules, provides high availability.
Process with short cycle times, effective utilization of materials and high repeat accuracy.