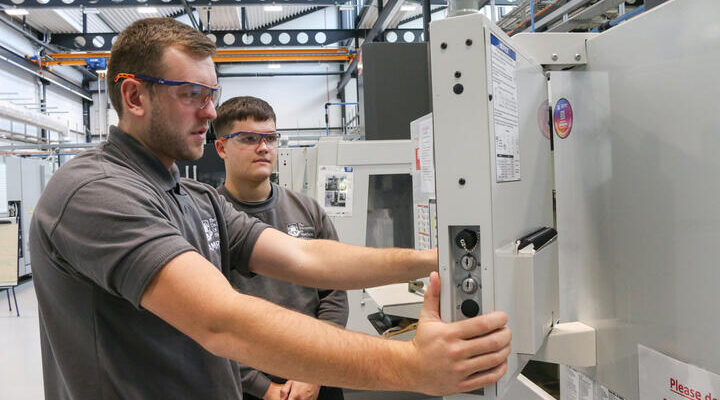 The adoption of low-cost digital technologies in manufacturing across the UK is being accelerated by the University of Sheffield Advanced Manufacturing Research Centre (AMRC) through a 'unique and exciting' pilot project to create digitally savvy engineers of the future.
Research engineers at the AMRC's sites in both South Yorkshire and North Wales are joining forces with the University of Sheffield AMRC Training Centre to deliver NextGen, an £867,000 project funded through the High Value Manufacturing (HVM) Catapult, aimed at addressing the future of data science and current analytic skills shortages in the manufacturing sector.
"This is about driving productivity into regional manufacturing businesses through digital technology adoption and skills development," said Ben Morgan, AMRC research director.
"The programme will support selected businesses to adopt low-cost digital technology and train apprentices and other digital champions to install sensors, and interpret the information being gathered to support informed business decision making.
"Gathering data and understanding the processes in more detail can help productivity as well as saving energy and reducing waste – it should be very beneficial for the businesses taking part."
The AMRC, part of the national network of HVM Catapult research centres, will select 14 businesses to take part, with ten coming from South Yorkshire and four from Wales. Research engineers will support each company to increase its productivity through data-informed decision-making; developing a sustainable, integrated and collaborative manufacturing ecosystem.
NextGen will enable manufacturing businesses to leverage a competitive advantage by extracting meaningful insights from data, facilitating a move from a reactive to a predictive business model and help them to use this digital innovation to drive productivity and push them towards net-zero.
To prepare the businesses for an increase in digital adaptations, the AMRC will be working with Sheffield-based manufacturing analytics software company FourJaw, which has simplified the Industrial Internet of things (IIoT), by creating the first easy-to-use and affordable machine monitoring system, designed to meet the demands of manufacturers.
FourJaw's hardware is completely plug-and-play, meaning it works with any and all machines, regardless of age or brand. The machine data gathered enables manufacturers to drive productivity by providing data insight that allows them to understand the past, manage the present and optimise their production processes for the future.
Chris Iveson, co-founder and CEO of FourJaw, said: "FourJaw's aim is to help manufacturers solve their two biggest problems: how do they find more work, and how do they manufacture that work on time, to spec, and within budget. Our IIoT machine monitoring solution enables this by giving manufacturers the data visibility to improve their shop floor productivity by understanding the main causes of downtime.
"We're delighted to have been chosen to be part of this programme and look forward to working alongside the AMRC and the 14 manufacturers selected to demonstrate the value smart technology can provide manufacturers of all sizes."
Apprentices from the AMRC Training Centre, which provides apprenticeships to develop the engineering workforce of the future, will be given the opportunity to flex their tech muscles and help analyse the data. The idea is to spark their interest in data science, learn new skill sets and create digitally savvy engineers.
The AMRC is also engaged with other local tech companies to contribute to the project, including WANDisco, Barnsley Digital Media and Razor.
Tom Hodgson, head of research for Factory 2050 at the AMRC, said the pilot scheme will be the next step in the AMRC's roadmap for increasing the uptake of industrial digital technologies (IDTs) and data science in the manufacturing sector.
"The project will act as a showcase for how IDTs can benefit manufacturing organisations of all sizes and will show how digital tools are deployed in 14 companies across South Yorkshire and North Wales," Tom said.
"Crucially, we will engage with the workforce to develop the skills necessary to fully utilise these cutting-edge tools to increase productivity."
Andy Silcox, research director for AMRC Cymru, added: "Next Gen is an exciting, unique, new pilot programme that we at AMRC Cymru believe will become an invaluable tool to guide manufacturers in North Wales in their journey through the fourth industrial revolution.
"It will firstly demonstrate the value of digital tools in the future of manufacturing, but more importantly, it will grow the skills within the partner businesses so they can make full use of those digital tools for years to come."