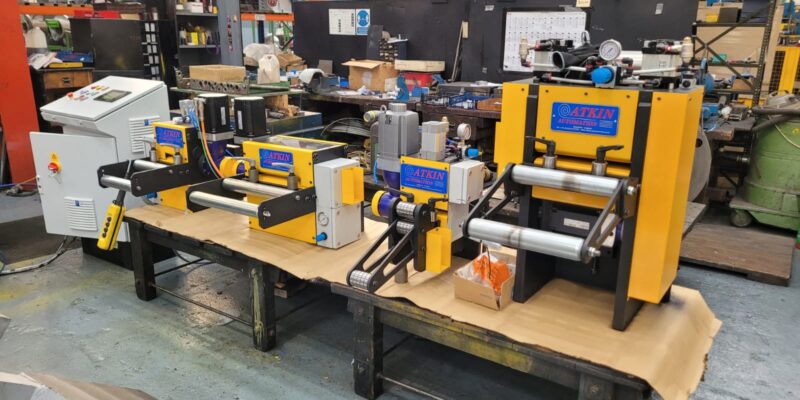 The Atkin Automation division of Group Rhodes is celebrating major contract wins to manufacture a number of Roll Feeds for companies in the North West and South East of England.

The new orders include the production of an RFC 100-300mm wide heavy duty unit, an RF70-100mm wide machine and an RF100-50 unit specifically designed to run heavier narrow strips in galvanised steel. All units will be supplied complete with multi-pitch and tool gag functions to enable the manufacture of complex punched components for construction metalwork.

Atkin is also producing an RF70-300 unit for a manufacturer of clamping systems in the automotive sector and has won a contract to produce three smaller decoilers to serve the grinding process used in the manufacture of technical/craft blades. A further order for four bespoke units from the same company, complete with a vertical to horizontal tilt mechanism is also on the expanding order book.
With further promising sales enquiries in the pipeline, the future looks very positive for Atkin Automation. The company is currently busy working on prospective orders with press builder and sister company Rhodes Interform for the design and manufacture of complete metalforming lines.

Geoff Barker, Sales Manager for Atkin Automation, explains: "We have had a very busy 12 months and the fact that so many customers are returning to us with new equipment orders is testament to the service we provide."
For more details visit the website