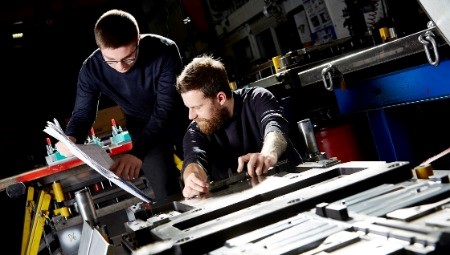 Paragon Toolmaking Co Ltd General Manager Kevin Batty has urged manufacturers to take full advantage of the benefits brought by supporting Apprenticeship schemes – saying it's a chance to ensure vital skills and knowledge are retained and not lost.
Pointing to a long-established and successful commitment to offering apprenticeships at the business, he says Paragon has benefitted from the loyalty which comes from having a large percentage of staff who have been taught their trade in-house.
Around 60% of the current Paragon Toolmaking workforce have come through the firm's own apprenticeship scheme, which it presently runs in conjunction with Humberside Engineering Training Association Ltd (HETA).
The average service of employees at the business is 11 years, over double the national average of just under four-and-a-half years, and Mr Batty says he is in no doubt that it is down to the sense of loyalty and belonging staff have through its commitment to apprenticeships.
As part of National Apprenticeship Week, which runs from February 6-12, 2023, employers and organisations are being urged to showcase their opportunities to those seeking an apprenticeship.
And Mr Batty confirmed the company is again to take on two new apprentices this year, as he urged others to do the same.
"At Paragon Toolmaking we feel strongly that, as a long-established and specialist manufacturer, we have a duty to train our fair share of employees within the manufacturing sector," he said.
"Some may be reluctant to do what we do, as they take a view that they will train people up only to lose them to other businesses, but we have a great staff retention record that we feel is down to the loyalty and feeling of belonging which comes from investing time into sharing our skills and helping young people progress their careers.
"Apprentices really appreciate being taken under the wing of experienced people, and our experienced staff have really bought into passing on their skills to the next generation.
"Of course we've lost a few people who we have committed a lot of time to training over the years, but we feel we all have a responsibility to keep the skills alive.
"I know it is not easy, but seeing a young person grow to be the future of your business is worth the effort, so I hope National Apprenticeship Week helps to encourage those considering taking on apprentices to do so."
Award-winning Apprenticeships offered
Paragon Toolmaking has won acclaim in recent years for its dedication to apprenticeship schemes, being awarded the Training and Development award at the Hull Live Business Awards 2021, and also the Manufacturing Apprenticeship / Training Scheme Award at Insider Media's 2021 'Made in Yorkshire' Awards.
Its apprenticeships run over four-years, over which time students learn whilst working in the factory four days a week, and spending one day a week on studies, before securing full-time employment.
Mr Batty says the key to successful schemes is identifying ambitious and enthusiastic applicants, and working with a quality training provider.
"Training apprentices is not easy but if you work hard to select the right candidates and work with a good training provider, you can develop young people to be the future of your business," he said.
"We always look for candidates who have researched our business and already have a knowledge of some of our work and history.
"Ideally we look for candidates who show an outside interest in doing what we do. If they have an interest beyond it being just a job, we find they want to learn more. Our most successful apprentices had made things at home or with their families before they joined us, so showed a real passion for design and engineering.
"It is a chance to share your skills, knowledge and experience with the future employees of your business. If you do not share it, the risk is those skills will be lost forever."