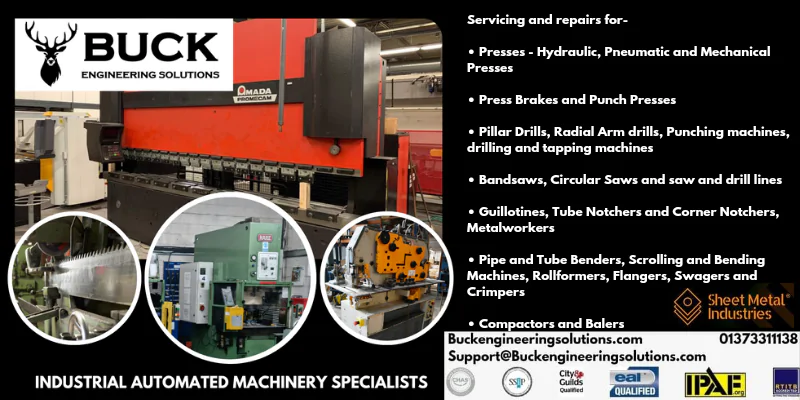 Buck Engineering Solutions are Specialists for Industrial Machinery Repairs.
We have substantial experience and knowledge with over 20 years working with Industrial Machines in all areas of Engineering, from repairing and servicing, refurbishing complete machines, to rewiring and upgrading control panels.
We provide a range of Electrical and Mechanical Maintenance breakdown support and services for production and manufacturing industries such as Fabrication and Press shops, manufacturing and assembly lines, automotive and aerospace, and sheet metal industries.
We Primarily work within the Metal Forming Industry, but also support many other Industries and machine types.
We offer full support for:
✅ Presses – Hydraulic, Pneumatic and Mechanical Presses
✅ Press Brakes and Punch Presses
✅ Pillar Drills, Radial Arm drills, Punching machines, drilling and tapping machines
✅ Bandsaws, Circular Saws and saw and drill lines
✅ Guillotines, Tube Notchers and Corner Notchers, Metalworkers
✅ Pipe and Tube Benders, Scrolling and Bending Machines, Rollformers, Flangers, Swagers and Crimpers
✅ Compactors and Balers
We also support many other types of machines – get in touch to see how we can help.
Email – [email protected]
Website – Buckengineeringsolutions.com 
Phone – 01373 311138