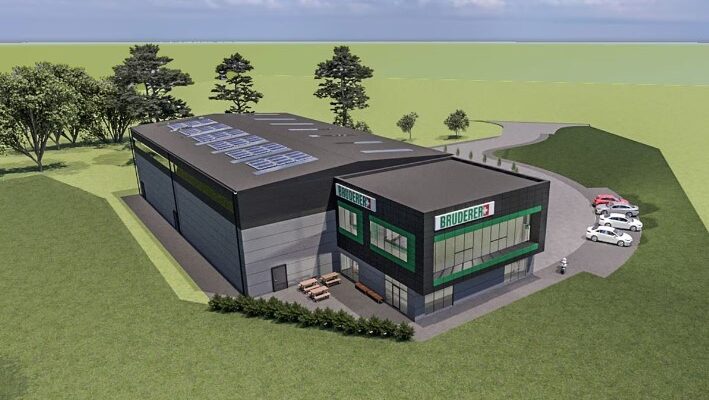 A world leading manufacturer of high-speed presses has unveiled its plans for its new factory and showroom in Telford in a move which will also create jobs.
Swiss-based Bruderer has reinforced its 55-year commitment to the UK by announcing a significant investment in the dedicated site on Hortonwood – a 48,000 sq ft new factory and showroom in Telford in 2024.
Construction work on the bespoke facility will start at the end of this month and will see the creation of a dedicated competence centre capable of servicing new and pre-owned machines, restoration of legacy presses and, for the first time, a modern showroom that will give a first-hand insight into new models, ancillary equipment and turnkey solutions.
The move, first revealed in September, will see the firm relocate its existing facility from Luton to Shropshire over the course of the next nine months, with four new jobs and an apprenticeship programme set to be created to cope with an unprecedented increase in demand for its technology.
Adrian Haller, managing director of Bruderer UK, said: "We have been planning this investment for a number of years and I'm delighted that our parent company have recognised the potential in the UK and agreed to build our new factory and showroom.
"The UK was the first subsidiary outside of our Switzerland home some 55 years ago and we still remain a strong base for Bruderer presses, with seven domestic companies investing in new machines in the last nine months alone."
He continued: "We had outgrown our Luton facility and many of our staff, and indeed customers, are based in the Midlands. It was a natural decision to find a home in that region and Hortonwood gave us not only the perfect location, but also the space to build our new factory from the ground up.
"This means we can house all our spares, a cleaning and paint shop, machining area, quality checking station and exhibition space to promote all our solutions under one roof.
"Staff will also be looked after, with outside areas set in landscaped gardens, air-conditioning throughout, showers, changing rooms and EV charging."
Mr Haller, who started at Bruderer UK in 1998 and has headed up the UK operation since 2007, added: "Customers will benefit significantly from this investment. For the first time, they will have a state-of-the-art demonstration centre to explore our latest high speed presses and even set-up tooling projects to prove-out the effectiveness of the machine.
"We also have lots of training space, so can have staff from our clients on site to show them exactly how to get the most out of their Bruderer high-speed stamping machines."
Andreas Fischer, chairman of Bruderer, said: "Shropshire is seen across the world as the birthplace of the Industrial Revolution and, today in 2023, still offers proximity to a lot of existing and new customers. I believe this move gives us the foundations to grow and plan for the next 55 years in the UK."
For more information on our range of presses, ancillary equipment and services, contact us on 01582 560300 or email us at [email protected]