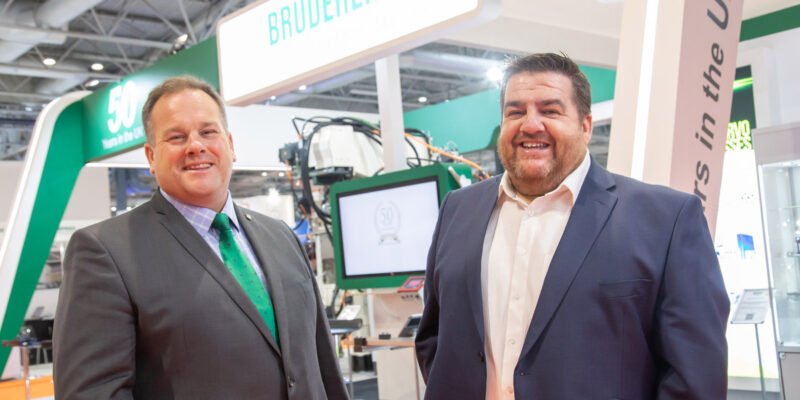 A Black Country manufacturer has signaled its intentions for future growth by placing a major order.
Clamason Industries, which produces precision metal components and assemblies, announced a £1m total project investment with Bruderer UK to secure its largest ever press that will be used to target up to £6m of new orders.
The specialist supplier to the automotive, medical and building products sectors will install the 300 ton ZANI Motion Master press in June and is hoping that the speed and additional bed size will unlock larger pressings and stampings opportunities.
It comes after a successful two-year period for the Kingswinford-based firm, with a MBO in 2016 proving the catalyst for 10% year-on-year growth, 20 new jobs and a predicted £30m turnover across its operations in the UK and Slovakia.
"We have worked with Bruderer UK for more than 20 years and have been extremely impressed with the quality of the machines it provides and the service/maintenance packages it delivers," explained Ian Davies, Sales Director at Clamason Industries.
"A number of conversations with potential customers had identified the need for a larger and faster press than the ones we already possessed, He continued: "ZANI presses are renowned for their durability and performance and the 300 ton Motion Master press gives us the ability to achieve over 80 strokes per minute and take on much larger and complex components. We have also opted for the turnkey solution, which includes a state-of-the-art servo feeder and decoiling line."


The order from Clamason Industries delivers a perfect birthday present for Brudere as it marks a major period of growth that will see the firm, who has bases in Luton and the Black Country, smash £5m for the first time in its history and recruit a further three skilled sales and service engineers.
UK MD Adrian Haller signed the agreement : "We knew we were close to a deal, "We listened to the technical team at Clamason and, through our understanding of the business and its objectives, we put together a turnkey package that not only met its requirements, but actually surpassed them.
"We have been the exclusive UK agent for ZANI for many years now and the machine's popularity in this country is definitely on the rise."
Rising Stars
Bruderer UK also used its appearance at previous MACH shows to launch its 'Rising Stars of Engineering' competition, which is open to all engineers or manufacturing professionals under the age of 30.
Designed to support the 'Year of Engineering', the initiative is inviting initial written nominations, with the shortlisted nominees asked to produce their own video detailing why they should win and the outstanding achievements they've made over the course of the year.
Adrian concluded: "Our recent growth has created its own issues and we are struggling to find young people that will join our team. Rather than bemoan our bad luck, we wanted to take measures into our own hands and believe this competition – along with our continued support of local technical academies – will help raise engineering's profile as a great career choice.
"We now want companies to step forward and take part. Let's recognise the young talent in our industry in the hope it will encourage more people to choose this profession."
For further information, please visit www.bruderer.co.uk or follow @brudereruk on twitter. More details on Clamason Industries can be found at www.clamason.co.uk