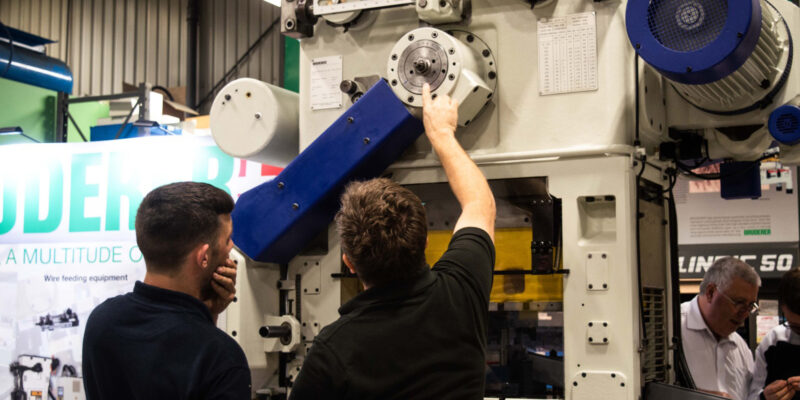 A leading supplier to the European car market has invested in its first ever Bruderer to help it increase output for current and future models.
Xandor Automotive Canning Brett, which manufactures exterior, interior and under bonnet components, installed a refurbished BTSA 40 high-speed press and BBV 202-120 feeder three months ago and is already achieving a 400% daily increase in volumes on selected lines.
The company is using industry-leading control and patented ram tool guidance technology to manufacture up to 200,000 clips, fasteners and washers every day, with the flexibility of the bed size and 1200 strokes per minute capability future-proofing its investment for years to come.
"The car industry is all about achieving more efficiencies and this means constantly looking at getting the most out of your manufacturing processes," explained Gethin Williams, Production Shift Manager at Xandor Automotive Canning Brett's specialist metal pressings site in Swansea.
"We had identified a number of parts that could be made quicker and in higher daily volumes, whilst still retaining the same level of repeatable quality. This prompted us to look for a new press and this is where Bruderer UK came into the equation, visiting us and identifying a solution that would work."
He continued: "They arranged for us to take a tool up to their site in Luton and run it on the actual machine we were interested in – the results were very impressive."
Bruderer's BSTA 40 tonne press can operate up to 1200 strokes per minute and offers a bed area of 690mm x 550mm – ideal for allowing slightly larger tools to be used that do not require the extra tonnage.
The press has also been designed to provide a range of adjustable strokes (from 13 to 57mm), with the longer stroke suitable for small electrical components and a shorter stroke for more intricate formed parts.
Xandor Automotive Canning Brett, which was keen to optimise performance and reliability, also invested in a tonnage and tool protection package that has improved the tool life significantly.
Gethin went on to add: "The first few months have been impressive, with the BSTA easily the best performing machine we have at our Swansea facility, which employs 46 people.
"These production uplifts have given us the confidence to actively go out and tender for new projects in new markets. I'm pretty certain it will not be the last high-speed press we buy from Bruderer, especially if it continues to quadruple daily output on certain parts."
Adrian Haller, Managing Director at Bruderer UK, continued: "This is the first machine we've ever supplied Xandor Automotive Canning Brett and we're delighted it has had an immediate impact on its productivity and ability to cope with increased volumes.
"It all started with our desire to spend time with a potential client, look at its entire manufacturing operations and where we feel that our technology can add real value. The answer on this occasion was a refurbished BSTA 40, which offers world class speed, accuracy and control."
He concluded: "Once we'd shown Gethin and his team the performance first-hand, it was an easy decision for them to make and the installation, commissioning and training was all completed within a two-week period.
"Our technology has delivered higher quality parts with far less burr, faster tool changes to support the implementation of single-minute exchange of dies (SMED) and freed up capacity as it is doing the work of three conventional presses."
For further information, please visit www.bruderer.co.uk or follow @brudereruk on twitter. More details on Xandor Automotive, can be found here.