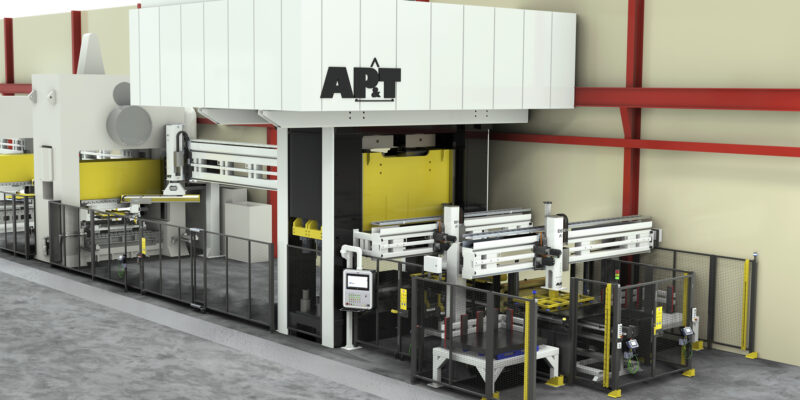 A new, highly automated tandem press line, which recently began production, is expected to more than double press production capabilities, reduce energy consumption, lower noise levels and improve complex forming for sheet metal parts, all of which will help meet the increasing demand for Bobcat equipment.
"This investment will provide us with new capabilities and efficiencies in our metal stamping operations, and it also aligns with our commitment to innovation, sustainability and continued investments in our manufacturing footprint," said Mike Ballweber, president of Doosan Bobcat North America.
The new line includes AP&T's energy-efficient servohydraulic press and automation. The assignment also includes line integration, operator training and support.
"Bobcat is one of the first companies in North America to invest in the future by implementing this automated solution using our new press technology," said Dr. Christian Koroschetz, chief sales officer of AP&T Group. "This investment also supports Bobcat's interest in pursuing sustainable, energy-efficient manufacturing solutions."
Servohydraulic press, boosting energy efficiency
The new AP&T servohydraulic press is 70 percent more energy efficient than a conventional AP&T hydraulic press. The press also provides increased productivity and superior forming capabilities, which enables the pressing of more intricate and complex designed parts, along with shorter cycle times.
Bobcat first became aware of the new press technology through a relationship with Wisconsin-based TCR Integrated Stamping Systems, a leading equipment manufacturer consultant and system provider for the metal forming industry.
"While visiting AP&T in Sweden, I was introduced to their latest automation breakthrough and knew it would provide a significant advancement for Bobcat. In addition, AP&T also demonstrated their new servohydraulic technology. Its unique capabilities had clear application for the Gwinner facility and is consistent with Bobcat's sustainability goals," said Todd Wenzel, president of TCR.
For AP&T North America, the commissioning of the new line is an important milestone in a successful collaboration.
"Bobcat has bestowed enormous trust in us and we will do our best to maintain it in our role as One Responsible Partner®," says Troy Hamilton, regional sales manager, AP&T North America.