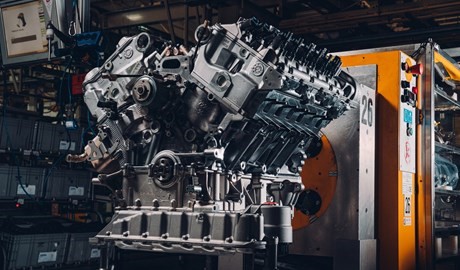 Bentley announces that it will cease production of its 12-cylinder petrol engine in April 2024, by which time more than 100,000 examples of the iconic W12 will have been handcrafted in the company's Dream Factory in Crewe, England.
Production of Bentley's iconic W12 engine to finish in April 2024 after more than 100,000 units produced in Crewe
Decision strategic to Bentley becoming a leader in sustainable luxury mobility
Milestone marked with confirmation of the most powerful version ever
Power for sold-out Bentley Batur confirmed as 750 PS, with 1000 Nm of torque, as development engine completes durability testing
Aim for all 30 W12 manufacturing colleagues to be retrained and redeployed within the business
W12 engine line to become expanded area for V8 and V6 Hybrid
Very few W12 order slots remain
The decision comes as part of Bentley's acceleration towards a sustainable future through its Beyond100 strategy which will see the company's entire model line fully electrified by the start of the next decade, reducing fleet average emissions to 0 g/km CO2. This journey has already begun, with the introduction of the Bentayga and Flying Spur Hybrid models for which demand is exceeding the company's expectations. When production of the W12 ceases next year, Bentley's entire model line will be available with the option of a hybrid powertrain. Meanwhile, an engine first made available in the sector-defining Continental GT, which has been powering Bentley both metaphorically and literally for the last 20 years, will be consigned to history.
Bentley isn't letting the W12 bow out without a dramatic send-off. Development work has concluded recently on the most powerful version of the W12 ever created. The ultimate iteration of this mighty engine – destined for just 18 examples of the Bentley Batur to be handcrafted by Mulliner – is now confirmed as developing 750 PS and 1,000 Nm of torque. The increased torque figure forms the typical Bentley 'torque plateau', running from 1,750 rpm to 5,000 rpm – with peak power at 5,500 rpm.
Bentley's Chairman and Chief Executive, Adrian Hallmark, comments:
"Our progressive journey towards sustainable luxury mobility means making changes to every area of Bentley Motors. When we first launched the W12 back in 2003, we knew we had a mighty engine that would propel both our cars and the brand forwards at speed. 20 years and more than 100,000 W12s later, the time has come to retire this now-iconic powertrain as we take strides towards electrification – but not without giving it the best send-off possible, with the most powerful version of the engine ever created.
"The 750 PS titan that Mulliner has created for the Batur marks the end of a development journey of which our engineering and manufacturing colleagues should be extremely proud, and when production finishes in April next year we aim to retrain and redeploy all of the skilled craftspeople who still build each engine by hand."
Battling through an exceptionally gruelling series of durability tests, the uprated engine has proven to be as reliable as ever and so will equip the most powerful road-going Bentley ever built. While all Baturs are sold, a limited number of the 659 PS version of the W12 engine offered in the Speed versions of Continental GT, Bentayga and Flying Spur as well as the Continental GT Mulliner and Flying Spur Mulliner can still be ordered. Demand for these final W12-powered Speed and Mulliner models is expected to be high, and customers eager to secure one of the last ever 12-cylinder Bentleys should contact their retailer with equal speed.
Bentley's aim is to retrain and redeploy all 30 of the skilled craftspeople that hand-assemble and test every single W12 engine at Bentley's carbon-neutral factory in Crewe. Meanwhile, the W12 engine production facility will make way for an expanded line for the completion of other Bentley engines used for the plug-in hybrid models.
Since the first introduction of the 6.0-litre, twin-turbocharged W12 in 2003, the engineering team in Crewe has continually improved the performance of the engine in terms of power, torque, emissions and refinement. Over the last 20 years, power has increased by 37 per cent and torque by 54 per cent, while emissions have been reduced by 25 per cent. Initially this was through evolution and optimisation of the control systems, improvements in the oil and cooling designs, turbocharging technology and more effective injection and combustion processes. For the launch of the Bentayga in 2015, the W12 was completely redesigned from the sump up, and it's that version of the engine that remains in production today – featuring cylinder deactivation, direct and port injection, and twin-scroll turbos.
Each W12 engine is hand-built over 6.5 hours by a team of craftspeople before undertaking a highly sophisticated test regime of over an hour via three specialist diagnostic machines. Every week, one engine is run over an extended test cycle and then fully stripped for inspection.
The W12 engine facility will have delivered over 105,000 engines before reaching its 20th anniversary this year.
Batur Showcases the Ultimate W12
For the final and ultimate version of the W12, Mulliner's engineering team has reworked the intake, exhaust and cooling systems to liberate more power and torque than ever before. Under the watchful eye of Mulliner's Chief Technical Officer, Paul Williams (who previously led the development of the second-generation W12), the engine is now signed-off at 750 PS and 1,000 Nm of torque – both record-breaking figures for the engine.
The turbocharger compressors are of a new design to improve efficiency, while the ducts that feed air to them are 33 per cent larger – at peak power, the new engine ingests more than a ton of air (1,050 kg) per hour. Larger charge-air coolers, with a depth increased by 10 mm and a new core geometry, reject 35 per cent more heat from the pressurised intake air, reducing intake temperature to a greater extent meaning a denser charge for more power.
The new intake and turbocharging system is matched with a heavily revised engine calibration to liberate the extra torque available, and the complete engine system is then paired with a new transmission calibration to deploy the additional power and torque and enhance the driving experience.
The Evolution of an Icon
Bentley's legendary 6.0-litre twin-turbocharged W12, created in 2002, has evolved into the latest iteration of W12 engine used across today's current model range. The unique W-configuration means that the engine is 24 per cent shorter than an equivalent V12, benefitting packaging and maximising usable cabin space.
The latest generation of W12 was launched in the Bentayga in 2015. A thoroughly reworked engine included a crankcase 30 per cent stronger than its predecessor, while the cylinder surfaces were coated to reduce friction and improve corrosion resistance. A low-alloy steel coating is applied to the bores using an Atmospheric Plasma Spray (APS) process.
Improvements were also made to the cooling system, with the engine featuring three separate coolant circuits. The first is designed to bring the cylinder heads up to optimum operating temperature as quickly as possible for best engine performance and low emissions. The second cools the engine block and oil system, while the third handles the thermal load of the turbochargers. Each system has a dedicated water pump, allowing optimised individual control.
The W12 combines high-pressure direct fuel injection (200 bar injection pressure) with low-pressure port injection (six bar). The combination of these two systems maximises refinement, lowers particulate emissions and optimises power and torque delivery.
Twin-scroll turbochargers minimise turbo response time and provide a more efficient exhaust package. The exhaust assemblies for the three front and three rear cylinders are separate from one another which then feed the twin-scroll impellers. The turbocharger housing is welded directly to the exhaust manifolds and feature integrated speed sensors, allowing the engine to monitor turbo performance for maximum efficiency.
Bentley's Variable Displacement system shuts down half of the engine under defined conditions. Intake and exhaust valves, fuel injection and ignition are all shut down on defined cylinders, with the engine running as a six-cylinder for improved efficiency. The system will run in this mode in gears three to eight, below 3,000 rpm and up to 300 Nm torque output.