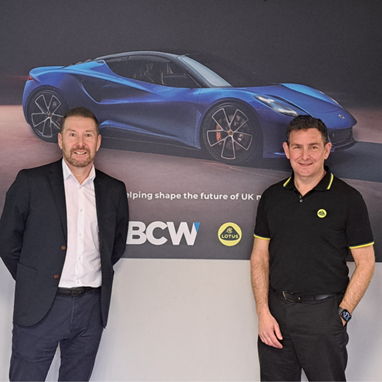 BCW Manufacturing Group welcomes Matt Windle, Group Vice-President & Managing Director, Lotus Cars.
BCW was proud to show Matt Windle and colleagues John Beck and Victor Cassini around its Burnley facilities. Staff at BCW were keen to see the Lotus Emira in its finished form. Mr Windle was familiar with the secondary site in Wellingborough after BCW Manufacturing Group acquired the former Lotus Lightweight Structure Treatments Facility in April 2022.
The business relationship between the two companies has continued to grow as BCW provides surface treatment for all Lotus aluminium automotive components.
The new Lotus vehicles – the Emira, plus the Eletre hyper-SUV – have been extremely popular, with a significant increasing customer waiting list for these highly desirable cars.  Nick Eary, Business Development Director, BCW, said,
"We are very happy and proud to be working with Lotus on the Emira platform and grateful to Mr Windle and his team for taking the time to visit BCW. We look forward to working collaboratively with Lotus to provide additional services and the development of a true manufacturer and supplier partnership."