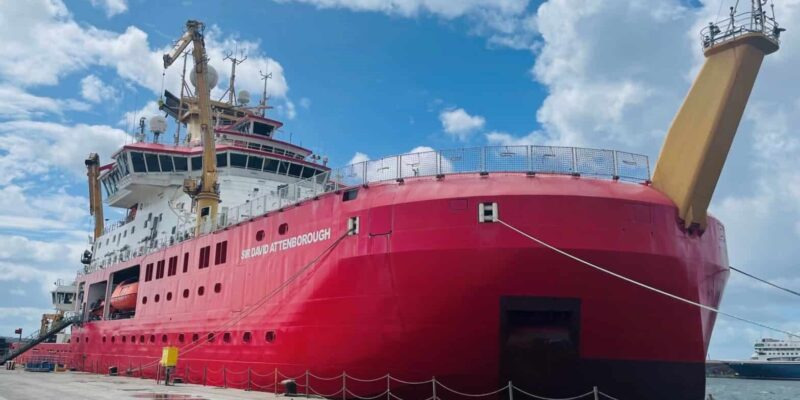 Babcock international have successfully completed maintenance works for the Royal Research Ship (RRS) Sir David Attenborough at its Rosyth facilities.
The RRS Sir David Attenborough (SDA) arrived in Rosyth in early June with works to the ship including upgrades to the vessel's gas detection system, helideck netting, draft sensor vent pipework as well as assistance with planned maintenance, defect rectification and general logistics support.
The maintenance was supported by around 20 expert Babcock tradespeople, including apprentices.
Designed to support science in extreme environments, the RRS Sir David Attenborough is one of the most advanced polar vessels in the world with the maintenance carried out by Babcock allowing the vessel to continue operating efficiently and safely as it embarks on its next global operation.
The SDA is the second Royal Research Ship to visit Rosyth as part of the newly agreed Natural Environment Research Council (NERC) contract, part of Babcock's £45 million contract to maintain the UK's fleet of scientific research ships. As part of this agreement, Babcock will support NERC to review, identify and adopt technologies and solutions to reduce ship emissions. Previously, the RRS Discovery left Rosyth following her own successful maintenance package. The RRS Sir David Attenborough is scheduled to return later in the year for larger works.
Sean Donaldson, Managing Director Babcock's Rosyth facility said:
"The UK's fleet of scientific research ships carries out invaluable work at both polar regions to allow us to further understand changes in our climate. To operate effectively in those regions, it is essential that each vessel is perfectly maintained. That's where Babcock's expertise and long history of successfully maintaining complex assets is invaluable.
"Our flexible and efficient recent work on RRS Discovery and now on the RRS Sir David Attenborough to carry out maintenance bears testament to the fact that we deliver when it counts most, and we are proud to play a part in this fantastic UK scientific programme."
Rob White, Senior Marine Engineer at British Antarctic Survey said:
"Our first visit to Rosyth has been a smooth and successful one, which is a good start to our long-term partnership. The keen and enthusiastic team at Babcock have completed the scope of works in time allowing the ship to proceed on its summer programme of science trials as planned. We look forward to returning in September when the ship will undergo its annual maintenance, surveys and preparations for the next season south in Antarctica."
The £200m ship made its first voyage to Antarctica in November 2021, after visiting Greenwich, London ahead of the COP26 climate conference. This season, the ship completed polar science trials – the first time its science capability has been put to the test in the cold and rough Southern Ocean. Over the summer, scientists will be on board conducting further trials before heading back to Antarctica later this year.