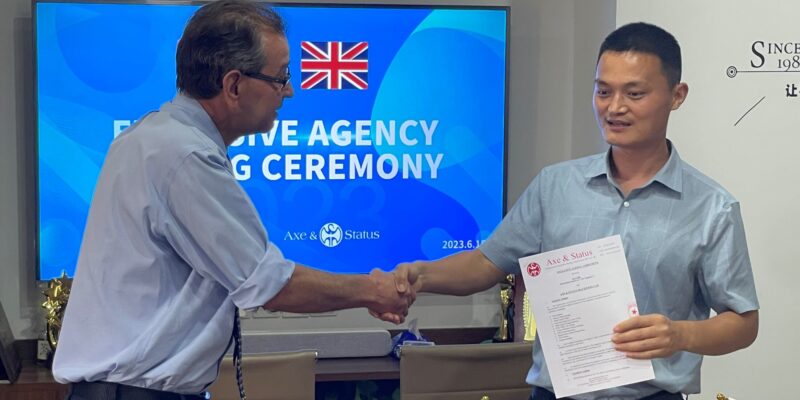 Axe & Status Machinery Ltd Partners with ACCURL – 
Uniting Strengths in the Laser & Bending Market
Introduction
We are thrilled to announce the recent collaboration between Axe & Status Machinery Ltd and ACCURL, forging a powerful partnership that holds immense promise for the laser market. Following an in-depth visit to ACCURL's facilities in China, Mr. Steve Thomas, the owner of Axe & Status Machinery Ltd, and his team were impressed by the capabilities and quality of ACCURL's products. After days of extensive discussions, the two companies reached a mutual agreement to authorize Axe & Status Machinery Ltd as the exclusive distributor of the ACCURL brand in the UK. This partnership signifies a significant milestone for both organizations, as they set their sights on capturing the rapidly growing laser market together.
Analysing the Companies
ACCURL
ACCURL is renowned for its cutting-edge technology and innovative solutions in the field of laser machinery. With a commitment to excellence and precision, ACCURL has established itself as a leader in the global market. Their extensive range of CNC press brakes, laser cutting machines, and other equipment has garnered a strong reputation for superior performance and reliability. ACCURL's dedication to research and development, coupled with their customer-centric approach, has earned them a loyal customer base worldwide.
Axe & Status Machinery Ltd
Axe & Status Machinery Ltd is a well-established machinery distributor based in the UK. Led by Mr. Steve Thomas, the company has built a solid reputation for delivering high-quality machinery and exceptional customer service. Their team of experts possesses deep industry knowledge and a keen understanding of market demands. Axe & Status Machinery Ltd has successfully catered to the evolving needs of customers across various sectors, making them a trusted partner for businesses seeking cutting-edge machinery solutions.
Significance of the Collaboration
The partnership between Axe & Status Machinery Ltd and ACCURL holds great significance for both companies, as well as for the laser market in the UK. By combining ACCURL's technologically advanced products with Axe & Status Machinery Ltd's strong market presence and expertise, this collaboration creates a synergy that is set to revolutionize the industry.
For Axe & Status Machinery Ltd, this partnership opens up new avenues for growth and expansion. As the exclusive distributor of ACCURL in the UK, they can offer customers access to a comprehensive range of state-of-the-art laser machinery, ensuring that businesses stay at the forefront of technological advancements. This collaboration also strengthens Axe & Status Machinery Ltd's position in the market, reinforcing their commitment to delivering excellence to their valued customers.
For ACCURL, the partnership with Axe & Status Machinery Ltd provides an ideal gateway to the UK market. Leveraging the established network and expertise of Axe & Status Machinery Ltd, ACCURL can reach a wider customer base and showcase their cutting-edge products to businesses seeking advanced laser solutions. This collaboration aligns with ACCURL's mission to expand their global footprint and provide innovative machinery solutions to customers worldwide.
Conclusion
The partnership between Axe & Status Machinery Ltd and ACCURL represents a dynamic alliance that combines expertise, innovation, and market presence. As ACCURL's exclusive distributor in the UK, Axe & Status Machinery Ltd is well-positioned to cater to the growing demand for advanced laser machinery, empowering businesses to achieve greater precision, efficiency, and productivity. Together, these companies are poised to shape the future of the laser market in the UK, delivering unrivalled technology and unparalleled customer satisfaction.
Please contact Axe & Status Machinery at [email protected] or 01908 647707 for further information on the Accurl range. New stock will be available for viewing from early September. The first high power lasers will also be installed in the UK in September and available for demonstration.