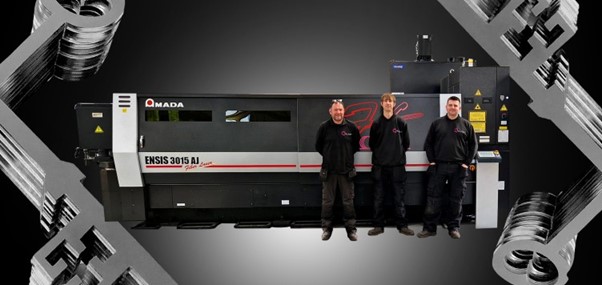 "The AMADA ENSIS has given us a distinct boost over our existing laser cutter, providing higher speed, better quality, greater consistency and more ease-of-use." – Mr Hewitt, Owner of Q-Laser
Q-LASER LTD, a precision subcontractor offering laser cutting, bending, waterjet cutting and fabrication services, is investing in the latest manufacturing technologies from AMADA, including a laser cutter, press brake and production monitoring software. The investments are helping to meet growing demand at the company, which has seen a 22% increase in turnover over the past year alone.
Based in Washington, Tyne & Wear, Q-Laser was founded in 2012, primarily providing laser cutting and press brake services on a subcontract basis. The company also has a waterjet cutting facility in nearby Hebburn, with a fabrication shop in Middlesbrough that offers services such as spot, MIG and TIG welding. "We provide our services to a vast array of customers in sectors that include oil and gas, construction, commercial vehicle, defence, telecommunications and general precision engineering," reports the company's owner, Colin Hewitt.
On this basis, Q-Laser is performing strongly, turning over £3.4 million in its most recent financial year (ending January 2023), which is 22% up on the previous year. In fact, this ambitious and progressive company says it has recorded year-on-year growth since its foundation, expanding its headcount to 25 people. Furthermore, in 2022 Q-Laser moved to a new facility that doubled its previous floor space.
With so much growth and success, Q-Laser deemed it necessary to invest in additional manufacturing technology, identifying another laser cutter as its top priority. "We needed more cutting hours with the benefit of production flexibility," reports Mr Hewitt. "Importantly, we recognised the need to keep expanding the business, where a second machine would support the laser cutter already on site. Our customers expect to have their orders processed and delivered within a few days, so it was our duty to try and accommodate that demand."
Mr Hewitt and his team considered two potential laser cutting machines, ultimately opting for a new AMADA ENSIS-3015AJ 6kW fibre laser. "Not only was the price within our budget, but the technology and features offered, along with the machine's ease-of-use, made our decision easy," explains Mr Hewitt.
"It was actually our laser operators that made the final call after visiting and operating the machine at AMADA's UK headquarters in Kidderminster."
Describing the installation, commissioning and training period as "well managed", Mr Hewitt says that his manufacturing team are today using the AMADA ENSIS-AJ to process mild steel (typically 3-25mm thick), galvanised steel (3-5mm), stainless steel (1.5-20mm) and aluminium (3-15mm). The company's laser-cutting operation is currently running across a single shift, with the aim of achieving two shifts in the near future.
"The AMADA ENSIS-AJ has given us a distinct boost over our existing laser cutter, providing higher speed, better cut quality, greater consistency and more ease-of-use," says Mr Hewitt. "We particularly like the ability to see the recording/live feed on the laser, which is very beneficial, as is the V-factory monitoring software and some of its options. In addition, our staff like the simple set-up of the laser head, along with the machine's ease of maintenance."
The AMADA ENSIS-AJ fibre laser cutting machines offer high-speed piercing and fast cutting, making them ideal for a wide range of materials and thicknesses. Available with 3, 6, 9 and 12kW fibre laser engines developed by AMADA using 3 and 4kW diode modules, the ENSIS-AJ range offers a proven way to increase production capacity. The 6, 9 and 12kW versions utilise AMADA's Auto Collimation system for unrivalled laser beam spot control. In combination with AMADA's original Variable Beam Control technology to adjust the laser mode, this system can process different materials and thicknesses with a single cutting lens.
Q-Laser also takes advantage of the AMADA V-factory monitoring system, which makes it possible to maintain an overall picture of production operations, from current machine status to the use of materials, energy consumption and analysis of manufacturing processes. All this through the VCBOX and My Vfactory App, a software application available for PCs and smartphones.