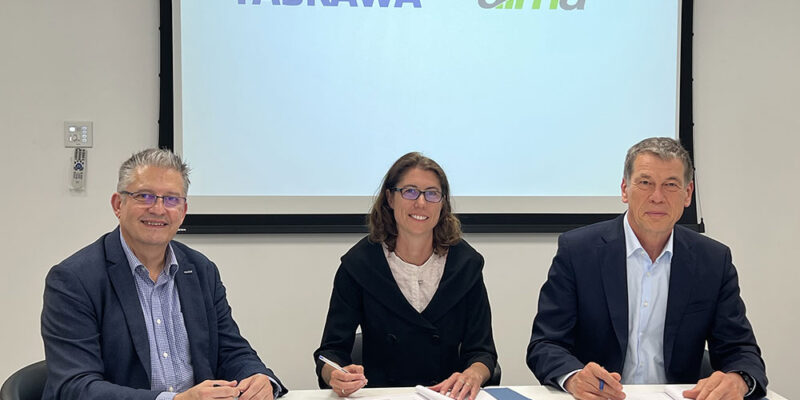 Yaskawa Europe, a world leader in industrial robotics, and Alma, a specialist in off-line programming (OLP) for welding robots, announce the signature of a partnership agreement. Within the framework of this agreement, which is in line with the historical collaboration between the two, Alma's Almacam Weld software becomes a reference OLP solution in Yaskawa Europe's catalog and will be promoted by the manufacturer to its customers with Alma's support.
Off-line programming, a key lever for the productivity of robotic welding installations
Off-line programming, which allows a robot to be graphically programmed from a virtual scene and its movements to be simulated, is more than an alternative to traditional programming by learning. It is an approach that is becoming more and more common among manufacturers, and is all the more interesting when the products manufactured are varied, modular or subject to frequent adaptations, and when the series to produce are small.
In Europe, dozens of companies of all sizes use Almacam Weld OLP solution to program their Motoman welding robots from Yaskawa. The agreement formalized between the two actors concretizes a long-standing cooperation in the field, with Alma and Yaskawa Europe teams or their local resellers (Spain, Portugal, Netherlands…) already working together to provide their customers with a high-performance robotic solution. The capabilities of the Almacam Weld software, in particular in terms of automation drastically reducing part programming times, were particularly appreciated.
A flexible framework for a true strategic partnership
This partnership completes Yaskawa Europe's offer for robotic welding with an expert and market-recognized software solution, 100% proprietary, developed by a pioneer of the OLP which is also an independent group.
"Thanks to Alma we will be able to increase the added value of our solutions and provide a turnkey solution to our customers," announces Richard Tontsch, Manager Marketing of Yaskawa Europe. "On the other hand, the partnership has been elaborated to offer a maximum of flexibility, from the pre-sales of the solution to the technical support, in order to allow our teams or our local resellers to adapt to all situations."
For this purpose, Yaskawa Europe will be able to rely on Alma's presence in different European countries and on its local teams of experts for the localization of the service to the end customers.
Yaskawa Europe and its resellers will benefit from a tailor-made support allowing its technical and commercial teams to be trained on Alma's software and to be accompanied in the deployment of OLP projects. The long-term objective for the manufacturer is to gain autonomy so as to be able to directly ensure the implementation and support of the software for its customers.
"We are very pleased with this agreement with a major player in robotics, which formalizes the strong ties we have established with Yaskawa in Europe," explains Christelle Savorgnani, sales and marketing manager of Alma's CAD/CAM software division. "It is the concretization of our expertise of more than 25 years in off-line programming software and of our capacity to innovate continuously to improve the productivity of robotized welding installations, to bring flexibility to production and to reduce the operating costs of our customers. It is also the result of a shared vision of the industry, of collaboration as a key success factor for all stakeholders, and of human values, which are essential for a long-term partnership."
Based on the perfect technical and commercial complementarity between the two players, this agreement lays the foundations for a true strategic partnership.