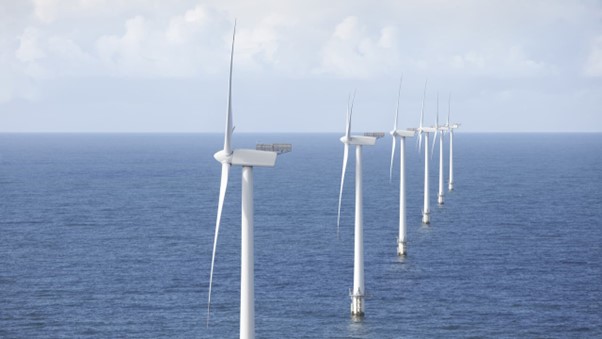 24 additional wind farms need to come online in the next seven years to reach UK's 50 GW offshore wind target, ABB analysis shows.
Offshore wind is expected to generate 62% of the UK's electricity supply and provide renewable power to every home in Britain
Offshore wind power offers the most potential to reduce residential and commercial electricity bills
To meet UK government targets to grow offshore wind power capacity from 13.7 GW to 50 GW by 2030 – a 265 percent increase – global technology firm ABB estimates that a further 24 wind farms with an average 1.5 GW1 capacity need to become operational during the next seven years.
If achieved, the UK's electricity supply from offshore wind will jump from 18 percent to 62 percent2, delivering renewable energy to every UK household, approximately 29.98 million homes, with a surplus available to export and power a further 37 million homes in neighboring countries. Offshore wind currently powers 15.28 million UK homes annually3.
To mark Global Wind Day 2023 on June 15, ABB – which has over 40 years' experience in the offshore wind sector and is the largest supplier of electrical components to the wind industry around the world – is highlighting the measures needed to achieve the 265 percent capacity increase.
"In order to reach the UK's ambitious targets, we must collectively find ways to bring down the cost of developing new wind farms, speed up the planning and permitting processes, secure the supply chain and deliver network infrastructure upgrades to support the massive growth in power flows and connections to the grid," said Per-Erik Holsten, Head of ABB Energy Industries for Northern Europe. "If we get this right, we could help the UK resolve the current energy pricing crisis and significantly grow the UK's export capability, all the while delivering a cleaner form of electricity to industry and consumers."
ABB is actively involved in seven key offshore projects across the UK. Collectively they represent 9 GW of offshore wind power capacity and include the world's largest wind farm at Dogger Bank, located more than 130 km off the northeast coast of England.
ABB's technology and engineering solutions act as a central gateway that unlocks the offshore wind process, allowing the electricity generated by wind turbines to flow through to the national grid and into peoples' homes. The company's automation and electrification solutions drive down the cost of wind operations, optimise production and minimise energy losses as well as ensure safe, reliable integration of power to the grid.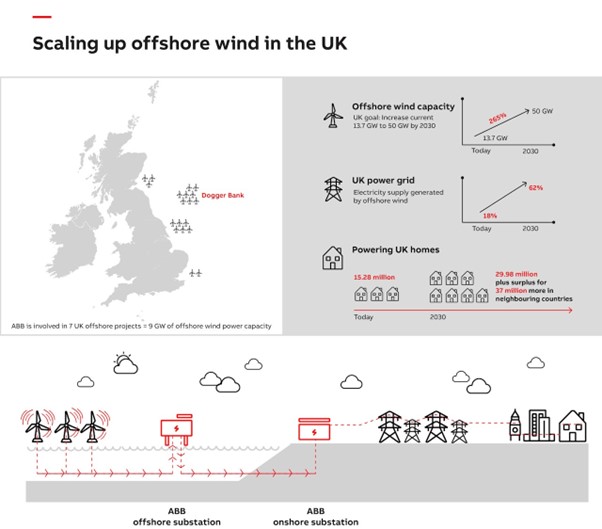 Electricity generated from wind currently accounts for almost a third (32.4 percent) of the UK's total electricity generation, having outpaced gas for the first time ever during the first quarter of this year4. As one of the most cost-effective sources of energy, it is presently more than 50 percent cheaper than electricity produced from gas5. Furthermore, by 2030, the UK's offshore wind sector is set to support more than 66,000 additional jobs6.
At the end of March, the UK Government announced a net zero plan called Powering Up Britain. This series of policy pledges includes accelerating the deployment of offshore wind in order to boost the country's energy security, reduce household bills, and maintain a world-leading position in achieving net zero. It also features £160 million in funding to kick start the infrastructure investment needed to deliver the increase in floating offshore wind farms.
ABB's Process Automation business automates, electrifies, and digitalizes industrial operations that address a wide range of essential needs – from supplying energy, water and materials, to producing goods and transporting them to market. With its ~20,000 employees, leading technology and service expertise, ABB Process Automation helps customers in process, hybrid and maritime industries improve performance and safety of operations, enabling a more sustainable and resource-efficient future. g
ABB is a technology leader in electrification and automation, enabling a more sustainable and resource-efficient future. The company's solutions connect engineering knowledge and software to optimize how things are manufactured, moved, powered, and operated. Building on more than 130 years of excellence, ABB's ~105,000 employees are committed to driving innovations that accelerate industrial transformation. 
ABB Ltd