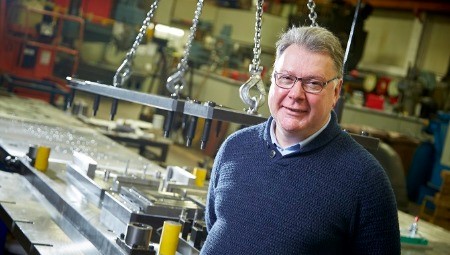 Paragon Toolmaking Co Ltd has further invested into new high-tech machinery with a £450,000 spend set to speed up production and increase automation when manufacturing precision tools which make products used worldwide.
General Manager Kevin Batty says the equipment is essential to ensure the business can continue to meet increasing demand for its expertise, maintaining its reputation for having one of the very best equipped tool rooms in the industry.
Established in Hull in 1969, Paragon competes on a global scale, with its clients coming from sectors including automotive, construction, aerospace, pharmaceuticals and white goods.
Now, following a successful year in 2022, the company has invested in a new CNC (Computer Numerically Controlled) machine, which has a large three by two metres bed to cope with large die sets and plates, and works at twice the speed of machinery previously used by the Paragon team.
A new automated 700mm by 1000mm surface grinder will also help increase production speeds, freeing up team members to work on other projects once set running.
Investment brings extra production capacity to serve new customers
The new investment follows the purchase of a new computer numerical controlled coordinate measuring machine (CNC CMM) last year, as owner Daniel Beaumont, who bought the business two years ago, seeks further growth.
"Daniel has invested heavily in the business since he bought it as he recognises that we have the potential to grow our customer base given the unrivalled expertise we offer," said Mr Batty.
"As a business we have always prided ourselves on the fact that we enter partnerships with our clients. Between 70 to 80 per cent of our business each year is from repeat customers, from customers requiring a couple of tooling projects a year to others needing more than 400 tooling projects.
"Now the aim is to keep growing and adding more new customers, as we did last year, and to ensure we can do that we have needed to invest, which Daniel is fully supportive of.
"The new equipment will make a big difference to our production abilities, which gives us the extra capacity to take on more orders."
Workforce expertise remains key to success
Mr Batty says Paragon continues to find the balance of investing in both equipment and people, with the business boasting 230 years' combined experience in precision toolmaking. Around 60% of the workforce has been trained in-house.
"The knowledge we have within our business continues to stand us apart," he said.
"You can have the very best equipment, but our job is about engineering knowledge and expertise to be able to design and manufacture bespoke tooling which allows clients to make bespoke products which often require challenging manufacturing processes.
"That is the reason clients they have remained loyal to us for over 50 years, and why parts and products manufactured with tooling made in our Hull factory are used by the likes of Range Rover, Siemens, Audi, Ford, VW, BMW, Mini and Lotus."