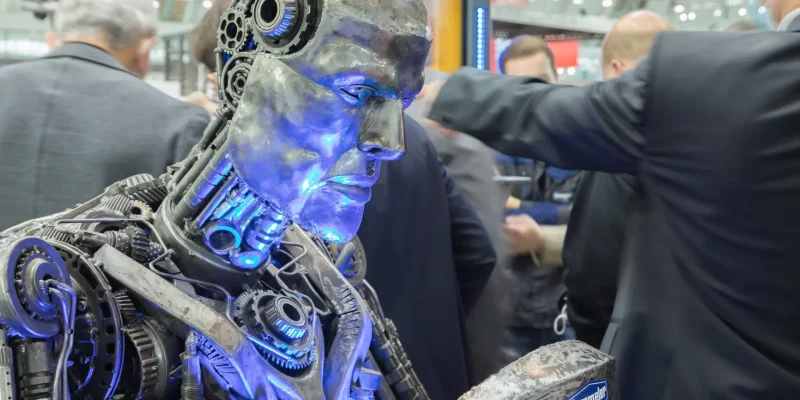 Preparations for the 16th Blechexpo international trade fair for sheet metal working, together with the 9th Schweisstec international trade fair for joining technology, are running at full bore. Global players will meet at the industry highlight in Stuttgart from the 7th to the 10th of November, 2023. The trade fair duo will present modern, forward-looking sheet metal processing and showcase entire process sequences. The event enjoys the highest levels of interest and is framed by a world-class supplementary programme including "best-Award 2023" and the "Blechexpo Steel Convention 2023".
More than eight months before the next Blechexpo international trade fair for sheet metal processing and Schweisstec international trade fair for joining technology, trade fair promoters P. E. Schall have announced a full house. The nine halls at the Stuttgart Exhibition Centre are fully booked, reports Georg Knauer, project manager of the time-tested Blechexpo/Schweisstec trade fair duo. "Interest in Blechexpo/Schweisstec is once again enormous," confirms Knauer. "Most exhibitors booked again immediately after the last event in 2021, and even requested additional booth floor space for 2023 as well." In order to provide trade visitors with the best possible thematic overview, as well as an efficient trade fair visit, the trade fair team has structured the current layout of the nine halls for Blechexpo/Schweisstec in a targeted manner. Sheet metal, pipe and profile processing will be located in halls 1, 3, 5 and 9. Halls 4 and 6 are reserved for stamping technologies. Cutting, joining and fastening technologies will be presented in hall 7. Hall 8 will focus on pressing and forming technologies. Finally, the issues of steel and metal services, as well as surface finishing technology, will be addressed in hall 10.
Impressive Portrayal of the Industry's Performance Strength
Once every two years, the trade fair presents numerous issues covering all aspects of thermal and mechanical sheet metal processing, along with system peripherals including controllers and software, as well as solutions for handling and quality assurance. With its cutting-edge technologies, the trade fair duo impressively reflects the industry sector's performance capabilities. Blechexpo/Schweisstec has established itself as an important leading trade fair and a valuable business platform for many companies. Expert visitors hold its clear-cut, practice-oriented presentation of the targeted issues in high esteem. The sheet metal working industry is currently facing the challenges of energy efficiency, resource conservation and cost-effectiveness, which is why high priority is being placed on ever greater degrees of digitalisation and automation in order to optimise processes.
"best-Award 2023": Technological Highlights and Future-Oriented Solutions
Once again this year, Blechexpo/Schweisstec's "best-Award 2023" for outstanding innovation will be included in the usual world-class supplementary programme. The organisers have clearly delineated the five award categories, namely 1) sheet metal, pipe and profile processing, 2) stamping technologies, 3) cutting, joining and fastening technologies, 4) pressing and forming technologies and 5) steel and metal services, as well as surface finishing technology, so that competitors can find the most suitable category for presenting their innovations. Exhibitors are invited to submit their entries to www.blechnet.com. Submission is free of charge.
A renowned, independent six-member jury will examine the applications in detail and select the winners. The jury consists of the following members: Stefanie Wiesner as representative of the ZVEI Technical Association for Arc Welding Equipment, Frauke Finus as representative of trade journals Blechnet and MM Maschinenmarkt, Robin Kurth as representative of the Fraunhofer Institute for Machine Tools and Forming Technology (IWU), Florian Kellner and Philipp Leinhäupl from Siemens' equipment manufacturing facility in Amberg as representatives for practical applications, and Edgar Grundler as representative of Schall trade fair promoters. The winners will be chosen and the award-winning innovations will be unveiled at a festive ceremony on the first day of the trade fair. "The best-Award is brilliant in my opinion because inventive talent and know-how are regarded comprehensively and provided with a suitable stage. We can expect technological highlights in the form of future-oriented solutions that link the digital world to the real world in terms of Industry 4.0. The best-Award is ideally situated within the context of Blechexpo/Schweisstec, because the trade fair offers a major, highly diverse international platform for innovations," explains Florian Kellner, production engineering designer at Siemens' equipment manufacturing facility in Amberg, Germany.
Challenges on the Steel Markets Addressed at the Blechexpo Steel Convention 2023
Blechexpo/Schweisstec's highly esteemed quality is also underscored by the "Blechexpo Steel Convention 2023", which will take place as a highlight at 1 p.m. on the first day of the trade fair, the 7th of November, 2023. After its successful launch in 2021, the expert convention will now kick off its second round. In keeping with the motto "Challenges in the Steel Markets in 2023", attention will be focused on the issues of climate protection, the green transformation, decarbonisation and the costs of steel production. Renowned speakers from leading companies with international operations will address these issues and discuss them with convention visitors.
A "futureSteel" congress has also been scheduled for the second day of the trade fair in cooperation with Marketsteel Media from Dusseldorf. The event will focus on the future of the steel industry and the issue of green steel. Expert visitors will also be provided with the opportunity of gathering more in-depth information about the product and service portfolios of individual companies, as well as their technological expertise and process know-how, at the exhibitor forum on all trade fair days. Beyond this, research institutes will present their projects in theory and in experimental practice.