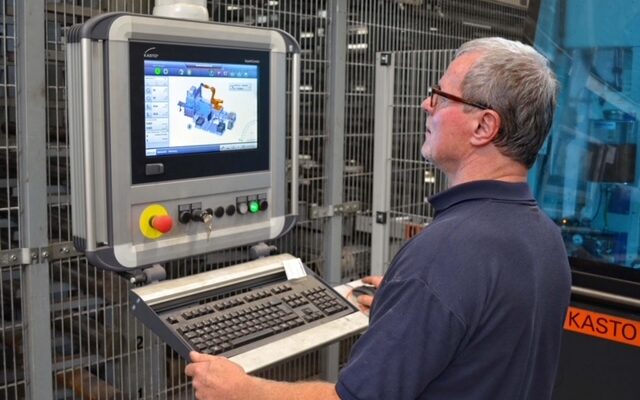 Founded in 1887 and currently employing approximately 3,000 staff, family-run firm Haver & Boecker, headquartered in Oelde, Germany, is an internationally recognised manufacturer of machinery for the preparation, transportation, storage, mixing, filling, packaging, palletisation and loading of bulk goods and liquids. It also manufactures wire mesh products primarily for screening and filtration.
After more than 20 years, the German-built KASTO sawing centre it was using in the factory had become outdated. Downtime was increasing and cutting results were no longer satisfactory, so the company approached the same sawing and storage technology specialist for an extensive modernisation and expansion solution. In the UK and Ireland, such services are available through KASTO's subsidiary in Milton Keynes.
At Haver & Boecker, round and flat bar, tube, hollow section and extrusion in numerous sizes and materials are held on 1,037 shelves of a six-metre-high, automated, cantilever bar storage system, also originally supplied by KASTO.
Christian Hinse, work preparation manager explained, "As a manufacturer of special machinery, we deal with an extremely wide variety of materials, but only in very small batch sizes. Just under one-third of the parts we saw are one-offs and overall, 90 percent of batches are between one and ten.
"Parts processed are primarily steel and stainless steel, but also aluminium and other metals. This requires a high degree of flexibility and efficiency on both the organisational and technical sides."
The original circular sawing centre and storage system were installed in 1998. In many respects, the saw was no longer compatible with current technology. Among other things, the PLC installed at that time has been discontinued and supply of spare parts was becoming increasingly difficult. The machine was also heavily worn and had reached the end of its life.
Project manager Claudia Bürger recalled, "Sawn dimensions were no longer accurate and the declining quality resulted in a large amount of rework. It was evident that we needed to do something.
"Additionally, we had introduced an SAP enterprise resource planning (ERP) system in the company, but the sawing centre was connected to its inventory management module via the internet, so there was a lack of transparency in the stock levels."
Modernisation of storage more economical than new equipment
After the requirements had been defined internally in spring 2019, the decision was taken to purchase a new saw to meet current requirements. As the steel structure of the bar storage system was still in near perfect condition, replacement was unnecessary. However, during the project a second, separate storage area was removed, so KASTO expanded the cantilever storage system by 60 cassette spaces to accommodate the additional long stock.
It was also necessary to modernise the operating gantry crane (OGC) that stores and retrieves the material, which is up to 6.5 metres in length. KASTO replaced the outdated control cabinets, energy supply system and measuring and control technology, as well as the crane's hoisting and traversing motors. They additionally replaced the old PLC with a SIMATIC S7 controller.
Modernisation of the OGC doubled its speed from 30 to 60 metres per minute. A KASTOlogic system is now used for warehouse management and is connected to the ERP system, greatly speeding and streamlining the processing of sawing orders.
Better performance despite fewer saws
The machine factory used the sawing technology conversion not only for renewal but also for optimisation. Formerly there were two manual saws, one for straight cutting and another for mitre cutting, connected to the former storage system that has now been removed, plus the old automatic circular saw connected to the bar storage system. Now there are just two sawing machines connected to the latter.
One is a KASTOflex A universal circular saw for straight and mitre cutting of materials up to 150 mm diameter. For mitring, data is fed from the 3D model of the machine to be built via the ERP system to the KASTOlogic software to optimise processing of the sawing orders. "This has improved our performance significantly," emphasised Hinse.
Material is fed via a transfer station for pre-storage while the saw is operating, saving time and making the work easier. The operator removes the bars, tubes or profiles to be cut from the transfer station of the OGC, either by hand or using the overhead crane, and places them on the saw's roller conveyor.
Adjacent to the mitre saw, a new KASTOvariospeed SC 15 fully automatic, heavy-duty circular saw has been installed to replace the old model. It is capable of cutting solid materials, profiles and tubes in all grades, including difficult-to-process metals. The saw is connected to a KASTOsort robotic handling system for handling the cut pieces.
The robot removes workpieces from the working area of the KASTOvariospeed and deposits them in one of several containers that have been manually positioned on pallets next to the robot. Using a vacuum gripper, the robot retrieves labels from a printer and places them into the containers as well. Previously, the tedious job of sorting cut pieces into the different order quantities was carried out by hand.
Smooth conversion during ongoing operation
The upgrade took place in autumn 2020, during ongoing operation of the facility and in the middle of the Covid-19 pandemic. Hinse enthused, "I can only take my hat off to KASTO's project management team. Despite the adverse circumstances, we were able to maintain a tight work schedule without any bottlenecks in our production."
For the transitional phase, Haver & Boecker set up a temporary sawing area with provisional manual storage. Up to 15 KASTO employees were in the facility at any given time, enabling the new system to be commissioned in just three weeks. Afterwards, service technicians were on-site to instruct the customer's staff.
The two saws are operated via a touch-screen control terminal. If a malfunction should occur, KASTO engineers are able to access the system remotely to provide a solution quickly. Alternatively, with KASTO VisualAssistance it is possible to support employees on-site during repair and maintenance via smart glasses and livestream.
Bürger concluded, "So far, this service has not been needed, as the system runs smoothly and is completely reliable. We now have a better overview of our inventory, can react more flexibly to changes at short notice and experience less downtime.
"The option of automatic mitring, more precise cutting using carbide saw blades and reduced coolant consumption have all had a positive impact, helping us to achieve sustainable cost savings. Together with KASTO, we have achieved everything we set out to do and are completely satisfied with the result."