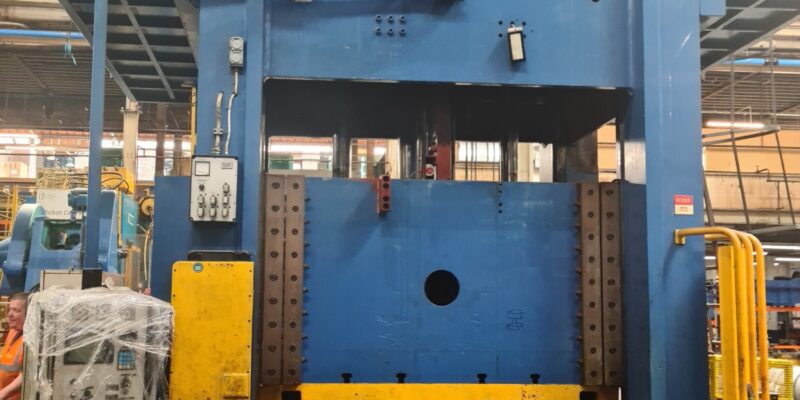 Rhodes Interform, the UK manufacturer of hot and cold forming equipment for metals and composites, has won a major new order with Braime Pressings in Leeds, to fully refurbish one of its existing metalforming presses.
Braime Pressings is a specialist in deep drawing, multi-stage progression and transfer presswork with over 130 years of manufacturing experience.
The project, which is due to be completed in Summer 2023, will involve Rhodes Interform fitting the press, which Braime Pressings bought from a Swedish manufacturer, with brand new electrics throughout, including control panel, operator station, human machine interface (HMI) and software.
The press will also be updated with several safety features, such as new light curtains, linear transducers, mechanical safety hold up devices and newly designed guarding to ensure the machine is brought up to the latest CE/UKCA marking standards.
Rhodes Interform will also install a new hydraulic power pack featuring the highest energy efficiency motors available on the market (IE4) which will offer significant savings in energy costs.
Senior engineer at Rhodes Interform, Ben Jennings said: "This project allows us to both enhance and extend the life of a machine that is already nearly 40 years old. The investment by Braime Pressings remains a major saving against a new machine, and yet operationally the press will be significantly more efficient by incorporating the IE4 motors. Rhodes Interform is proud to be involved in such a project that has efficiency and sustainability at its core".
Braime Pressings' Operations Director Alistair Barr said: "Braime Pressings and Rhodes Interform have a long-standing relationship and we are pleased to be working together on this project. The major investment we have made demonstrates our commitment to significantly improving our offer to our stakeholders in terms of capacity, flexibility and competitiveness."
Rhodes Interform offers fully certified refurbishment services on any make and model of metalforming and composite presses. If you are interested in investigating similar opportunities on any existing machine, please contact the service department for more details on 01924 371161.
About Rhodes Interform
The company offers a wide range of hot and cold forming technologies for specialist metalforming applications across several industrial sectors. In addition, Rhodes Interform's composite machinery is used to produce structural components for production road cars, as well as flight critical components for a variety of aircraft.
As well as manufacturing state-of-the-art presses, Rhodes Interform reconditions and upgrades its extensive range of existing machines at a fraction of the cost of buying new, as well as undertaking refurbishment work on equipment of other makes. The company can also offer full PLC or CNC control system upgrades with software designed to meet the individual requirements of each customer.
All Rhodes Interform' s machinery is supported by a comprehensive aftermarket spares and service team which maintains the company's equipment throughout the world.
About Group Rhodes
The parent company, Group Rhodes boasts a 200-year metalforming machinery history and has manufactured equipment for the forming of composite materials from as early as the 1930s. In addition, the group operates divisions in the heavy ceramics and material handling sectors and has won Queen's Awards for both Innovation and International Trade in recent years.
For more information, please visit the website www.grouprhodes.co.uk or contact the Technical Sales department on + (44) 1924 37 11 61.