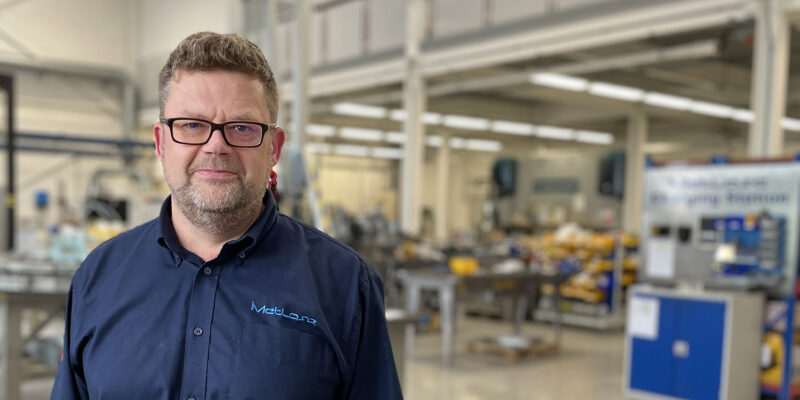 One of the UK's leading specialists in smart tooling and fixturing is launching two new products this week that will help manufacturers improve productivity, reduce assembly time, and harvest critical data.
MetLase, which has increased the digital team headcount by 50% in the last year, will showcase its Component Assembly Bench and Repair Bench at this year's Smart Factory Expo, taking place in Birmingham (June 7-8) as part of Manufacturing and Engineering Week.
The Rotherham-based company will have both products on display at Stand L108, with a host of technical experts on hand to talk visitors through the importance of switching to smart tooling to speed up time to market and streamline production cells.
It marks an exciting period for the business that has already sold a suite of five repair benches to optimise its electrical testing for a blue-chip rail specialist.
The Repair Bench includes a digital hand tool that optimises and digitises physical data gathering to boost productivity by 40%, whilst also eliminating errors and providing a full digital quality audit trail.
"Demand for automation, precision, and efficiency in manufacturing processes is growing across a vast array of industries and that's really fuelling our growth," explained Mat Marsh, Managing Director of MetLase.
"Our proposition leverages the benefits of a digital technology platform with our specialist manufacturing expertise and experience, giving many existing and potential customers access to 'smart digital' features that deliver immediate tangible benefits."
He continued: "Smart Factory Expo will be the first time we will bring our Component Assembly Bench and Repair Bench to a major industrial event. These automated solutions have previously not been possible and our focus on real-time inspection of manual processes can provide unprecedented levels of productivity.
"We will also be showcasing how our fixturing/tooling can be further enhanced by incorporating MetElements into the overall solution.
"This proven MetLase digital platform has been created so that it can integrate almost any type of sensor or digital device into bespoke fixtures and products, accelerating speed to market and securing a level of performance not achieved by other alternative joining techniques."
The Repair Bench for testing electrical components has been developed in partnership with industry and aims to enhance electrical testing, increasing productivity and delivering higher-quality components.
MetLase engineers have been working on the innovation for over a year and expect it to boost reliability, reduce downtime and, importantly, improve safety for users in the UK.
This product will be joined on the stand at Smart Factory Expo by the Component Assembly Bench.
It incorporates advanced features, including precision measurement tools, integrated sensors and data management, the latter providing real-time data insights that optimise workflow and can help reduce waste.
Mat concluded: "A lot of companies are offering digital manufacturing, but few can bring solutions to market that have been distilled from significant experience of working with OEMs and Tier 1 companies.
"Incorporating MetElements into fixturing/tooling means clients can enjoy the best of both worlds – industry-leading engineering in a customisable digital platform that gives you greater control, greater insight and greater performance."