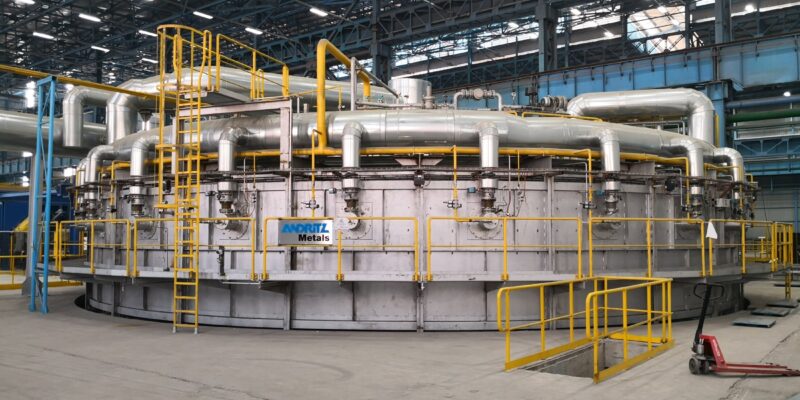 New Indian customer orders wheel roller and two forging presses as well as rotary hearth furnace and heat treatment from ANDRITZ Metals
Ramkrishna Titagarh Rail Wheels Ltd. is a joint venture between one of the largest suppliers of forged parts in India and the nation's largest manufacturer of railroad wagons in the private sector. The world's most populous country plans to invest over $700 billion in its rail network over the next few years. Schuler has now received a major order from Ramkrishna Titagarh Rail Wheels Ltd. in the upper double-digit million euro range for a turnkey production line to produce railroad wheels, including a wheel roller, two forging presses, automation, dies, as well as a rotary hearth furnace and a heat treatment line from ANDRITZ Metals Germany. Like Schuler, the company is part of the international technology group ANDRITZ.
"Schuler has already proven its expertise in the manufacture of railroad wheels with numerous production lines installed on the Asian continent," says Naresh Jalan, managing director of Ramkrishna Forgings. "It was important for us to select a supplier whose equipment stands for high quality." "Forged railroad wheels are best at handling the extreme stresses of heavy acceleration and deceleration," explains Christian Palm, Director Hydraulic Presses at Schuler. "We are pleased to make a small contribution to taking rail transportation in India to the next level with this production line."
The forming of rail wheels takes place in four steps before they enter machining. First, a 10,000-ton hydraulic forging press produces a disc-shaped preform from a heated billet in two stages, which is then given its final diameter in a wheel roller. Finally, the rolled-out wheel is calibrated in the second 5,000-ton press and the hub is both axially offset and pierced.
ANDRITZ Metals Germany is one of the largest furnace manufacturers in Europe. Together with Schuler, they have already built several plants to produce railroad wheels and axles. Upstream of the press line, the ANDRITZ rotary hearth furnace ensures uniform heating of the billets to a temperature of 1,250 °C. After the forging process, the wheels are normalized in the ANDRITZ high-temperature furnace at a temperature of 980 °C. Subsequently, only the rim of the railroad wheels is hardened and tempered in the ANDRITZ low-temperature furnace at a temperature of 480 °C. The complete re-heating and heat treatment process produces fully automatically, with a consistent quality, according to Indian railroad standards.
Ramkrishna Forgings Ltd. was founded in 1981 and is listed in the National Stock Exchange of India and the Bombay Stock Exchange with a market capitalization of 110 billion rupees (1.2 billion euro). It is one of India's leading forging technology company, manufacturing and supplying highly engineered, mission critical automotive and non-automotive components with complete one-stop integrated solutions. It is the second largest forging player in India and employs around 5,300 people at its seven locations in India. It has an installed capacity of 210,700 tons and caters to original equipment manufacturers ("OEMs") and tier-1 automotive companies in the automotive sector, with a primary focus on the commercial vehicle segment, in addition to railways, oil and gas exploration companies, farm equipment manufacturers, mining companies in the non-automotive sector. The company is led by Mr. Naresh Jalan, Managing Director, and Mr. Chaitanya Jalan, Wholetime Director.
Titagarh Rail Systems Limited (TRSL) offers mobility solutions to billions with its prominent presence in both the passenger and freight rail systems including railway wagons, components, passenger coaches (EMU/MEMU) and metro coaches. TRSL is the largest private sector manufacturer of railway wagons and an established player in passenger coaches. The company has been awarded the largest ever order for wagons by Indian Railways in addition to the orders for manufacture and supply of metro trains for Pune Metro and Surat Metro projects. TRSL is also the co-recipient of prestigious orders for Vande Bharat trains & Forged Wheels. The full aluminium body metro coaches for Pune are being manufactured at its state-of-the art facilities in Uttarpara, West Bengal, with the design developed in partnership with its Italian venture. With its prominent position in both the freight and passenger rolling stock, Titagarh is present in the entire gamut of rail systems and proud to be a part of the Atma Nirbhar and Make in India initiatives of India. Apart from Uttarpara, TRSL has engineering infrastructure in Titagarh in West Bengal and Bharatpur in Rajasthan.