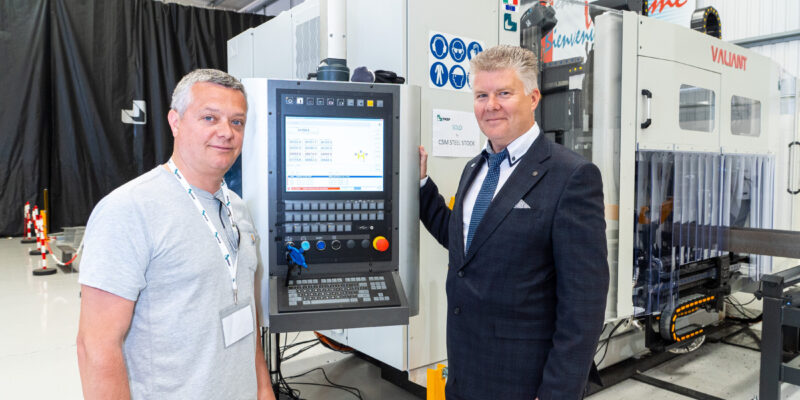 North West-based steel stockholder CSM Steelstock has invested in a Ficep Valiant CNC line to extend its capabilities and further meet its customer needs.
Supplying into the automotive, gas, oil and petrochemical industries, CSM Steelstock projects that the Valiant CNC line from Ficep UK will add £4.5m per annum to the Accrington business's turnover. MD Grant Moore explains that the new line will answer a gap in workforce skillset and respond to the needs of its loyal customer base for structural metal cutting and drilling services.
Says Grant Moore at CSM Steelstock: "Our investment in the Ficep Valiant CNC line will be a game changer for our business. We will be able to offer our existing customers more capabilities and help us further develop lasting partnerships. It will be running 80 hours a week and we already have a strong forward order book using the new line. We have grown year on year for the last 13 years and have recently invested in new premises which, when redeveloped, will house our 21 staff and machinery in the 32,000 sq ft facility."
The Ficep Valiant is a high-performance automated three-spindle drilling system for processing structural steel profiles. Offering six tool changer positions on each of the machine's three spindles, the Valiant's total tool capacity is 18. Its spindles are all a direct drive with speeds up to 5000 rpm and utilising HSK 80 tool holders enables heavy milling functionality.
The 300mm auxiliary axis, which is available on all three spindles, allows for a wider range of control for each spindle. Its sub-axis spindle positioning enables simultaneous drilling on all three surfaces. The optional underside scribing device, also with sub-axis positioning, permits up to four-side simultaneous scribing operations.
Says Chris Berriman, Ficep UK sales director: "We're delighted to supply this high-quality automated drilling and cutting line to support CSM Steelstock's growth. Our engineers work closely with customers to listen to their changing needs which in turn influences the systems we develop and supply. The Valiant is an ideal choice for CSM Steelstock as it will allow them to process to the high quality which its customers expect as well as increase its processing capability to meet demand."