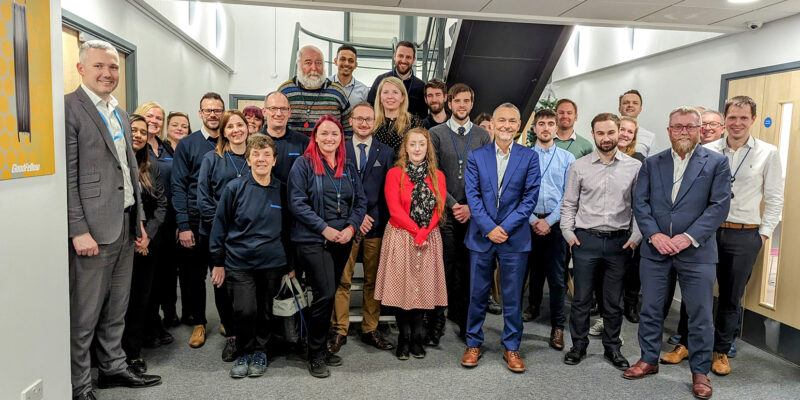 One of the UK's leading manufacturers of specialist metals and materials has signed a new commercial agreement with Advanced Energy Minerals (AEM) to support its growing order book in the academic and research sectors.
Goodfellow Ltd, which recently delivered materials to the Lawrence Livermore National Laboratory for the Nuclear Fusion Breakthrough that shook the world, will work with the Canadian company to build high purity alumina powders into its growing range.
The transatlantic deal gives the Huntingdon-based firm exclusivity for sales denominations of up to 20kg per line, covering nine high purity alumina powders, 5 gamma powders and 4 alpha powders.
Mark Fenton, Goodfellow's Chief Operating Officer, commented: "This agreement will provide access to new materials, whilst also strengthening our portfolio for 6000+ customers that are always interested in high-quality chemicals.
"The scientific sector is a core market for our business and there is plenty of potential there for us to grow if we can continue to offer the highest purity of materials."
He continued: "We hit the headlines last month through our close partnership with Lawrence Livermore National Laboratory on the Nuclear Fusion experiment, but this is just the tip of the iceberg.
"Goodfellow has also supplied materials for the particle accelerators and detectors used by CERN, whilst our expertise has also been channelled into European Spallation Source (ESS) projects."
Michael Adams, CEO of Advanced Energy Minerals, added his support: "We are delighted to extend our presence in the academic sector thanks to the agreement signed with our partner Goodfellow.
"The deal, which will extend our global reach with scientists, universities and research institutions, also meets AEM's ambition to become the preferred producer of premium alumina and other aluminium derivatives for the scientific community."
Goodfellow is a leading global supplier of metals, alloys, ceramics, glasses, polymers, compounds, composites and other materials to meet the research, development and specialist production requirements of science and industry.
Located on Ermine Business Park in Huntingdon, the company has an extensive range of 150,000 catalogue products in multiple forms available off the shelf, most subject to free delivery within 48 hours and with no minimum order quantities.
It also offers a comprehensive range of bespoke processing services, effectively operating as an extension of a customer's production team to develop custom-fabricated components in any quantity required.
Mark concluded: "Our in-house team comprises fellow scientists and engineers with extensive knowledge of materials and processing. Through their technical expertise, and a supporting range of specification tools, we have built an unrivalled reputation for finding solutions to the most challenging of research problems."