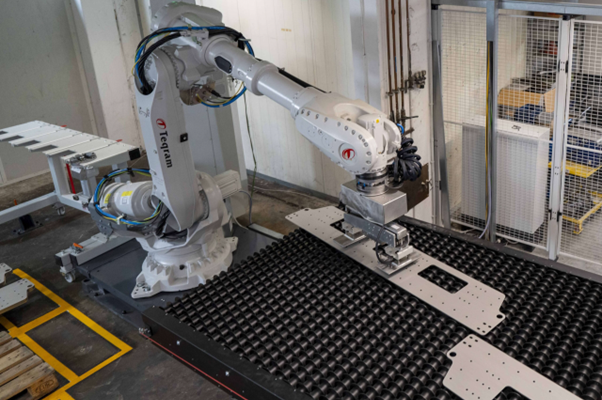 Dreeskornfeld, a medium-sized company specializing in flexible sheet metal processing, faces the challenge of manually loading and unloading deburring machines, which is not only labour-intensive but also time-consuming and physically demanding. To address this issue and improve their working conditions while saving costs, they decided to invest in the Teqram EasyDebur robot to automate the deburring process. This strategic move helps combat the skilled labour shortage and enhances their competitiveness.
Heinz Dreeskornfeld GmbH & Co. KG operates 11 flatbed lasers and 2 punch/laser combination machines at its Bielefeld (Germany) location. With a workforce of 108 employees, they process 60-70 tons of sheet metal daily, primarily serving the agricultural and conveyor technology, vehicle and plant construction, and mechanical sectors.
Challenges in Sheet Metal Deburring
Traditionally, Dreeskornfeld placed the sheet metal parts on the conveyor belt for deburring manually, a common practice among sheet metal suppliers. However, due to the shortage of skilled workers, they needed an automated solution to expand deburring capacity. Robotization was an obvious solution here, but classic industrial robots require large quantities so that the programming effort per part is economical. However, such quantities are rarely found in flexible sheet metal processing.
Autonomous Loading of Deburring Machines
The robot systems from the Dutch automation specialist Teqram proved to be a suitable solution. Thanks to vision systems and AI-based controller, Teqram robots can operate completely autonomously, without time-consuming programming or teaching. After pressing the start button, the EasyDebur scans the pallets with the parts in the entrance area. The EasyEye, in combination with 3D vision sensors in the gripper, recognizes pallets, stacks and individual part geometries based on the scanned data. CAD data does not have to be transferred. The system autonomously decides which grippers are suitable for each component and switches them in independently. In the background, the software also ensures that the number of gripper changes is minimized. The parts are then transferred to the entrance conveyor belt of the deburring machine. If, for example, there are traffic jams due to a machine error, the loading process is automatically slowed down or stopped.
The Ideal Deburring System for Dreeskornfeld
The EasyDebur is a configuration of the Teqram modular system that is specifically tailored for deburring machines. The flexibility of the system is demonstrated by various configuration options that enable an optimal solution depending on the deburring machine, production volume, part dimensions, deburring processes and available space.
In a one-robot configuration with a 180-degree turn, the dimensions of the sheet metal parts are limited. Dreeskornfeld therefore decided on a two-robot solution in order to be able to automatically process parts up to 2 meters long. A significant additional benefit for Dreeskornfeld is the increase in production output.
Dreeskornfeld is convinced of autonomous robot solutions
Christine and Marcus Dreeskornfeld, the managing partners, cite the shortage of skilled workers and the competitive advantage of automation as the reasons behind their decision to automate. They have previously invested in welding robots and robot-controlled press brakes, which not only relieves employees of handling heavy and bulky parts but also ensures constant, efficient processing 24/7.
Teqram Vision Guided Robotics
Teqram's solutions originated from the challenges faced by two laser job shops that needed to automate small quantities with a variety of variants without extensive programming.
In addition to the EasyDebur-system, Teqram also offers solutions for loading and unloading levelling machines, rotary table and continuous shot blasting systems, milling machines and even a robot solution for grinding oxy-fuel and plasma-cut workpieces.
Teqram at BlechExpo
During BlechExpo, Teqram will demonstrate its autonomous robotic systems. In addition to loading and unloading deburring and shot blasting machines, Teqram will be showing the EasyGrinder grinding robot and the EasyFlipper for turning heavy parts. BlechExpo will take place from Tuesday, November 7th to Friday, November 10th, 2023 at Messe Stuttgart. You can find Teqram in Hall 5 at Stand 5302.