Babcock has reached another major milestone on the Type 31 programme, to deliver five Inspiration Class frigates for the Royal Navy, as it cut steel marking the official start of HMS Active's build programme at Rosyth.
Coming just 16 months since steel was cut on the first ship, HMS Venturer, Babcock welcomed senior guests from the UK Government and Royal Navy, alongside international industry to witness the traditional shipbuilding ceremony.  
Joining the ceremony were veterans from the former Royal Navy Type 21 frigate and namesake HMS Active, which played a key role in the Falklands Conflict, who joined the ceremonial start to production at Babcock's digitally led advanced manufacturing facility.
A key component of the UK's national shipbuilding strategy, the Type 31 programme will support a direct UK workforce of around 1250 people, including 150 apprenticeships and a further 1,250 people in the supply chain at the height of the programme.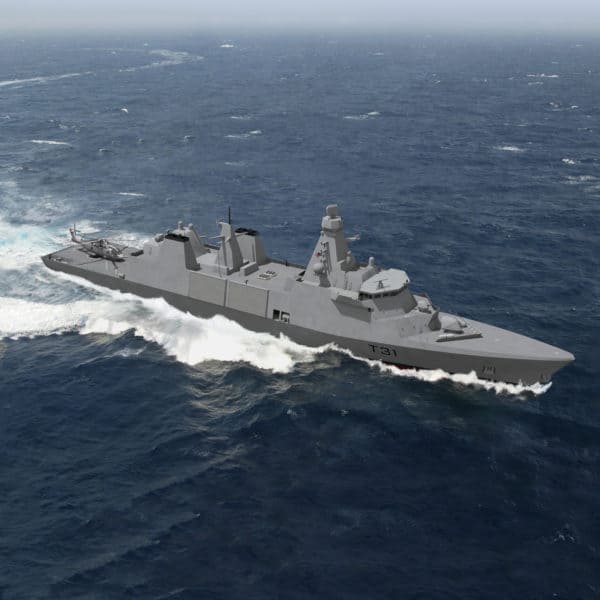 Additionally, Babcock has created 250 new Production Support Operative (PSO) roles to support the programme and beyond, with a focus on recruiting people who are not currently in education, employment, or training with recruitment undertaken in conjunction with Fife Council, Fife College and local employability programmes. Once fully trained the PSOs will support activities across the Rosyth business.    
Babcock's Chief Executive Officer, David Lockwood said: "We are immensely proud to be marking another key milestone on the five ship, Type 31 programme at Rosyth. The first cut of steel for HMS Active is a momentous occasion for this critical UK defence programme as we put another ship into production. The Type 31 programme is a game-changer in the delivery of naval platforms, and we are already witnessing the tangible benefits that the programme will deliver; not just the emergence of a fleet of cutting-edge frigates for the Royal Navy, but also increased employment, new technologies and infrastructure investment.
"It's a real honour to share this occasion with Minister for Defence Procurement, Alex Chalk MP and Andrew Bowie, Minister for Export, our workforce, our customers and our partners."
Minister for Defence Procurement, Alex Chalk KC said: "We should be very proud of achieving another milestone in the Type 31 programme, which will deliver key warships for the Royal Navy, and continue to support British industry through national shipbuilding.
"This work delivers growth across the country, supports thousands of jobs, and showcases the strength of the union. This is great for Scotland and great for Defence."
Minister for Exports, Andrew Bowie said: It's fantastic to see another milestone reached in Babcock's Type 31 programme, which supports more than 2,000 jobs in Scotland and across the UK in key industries such as engineering, tech and cyber.
"DIT is backing Babcock to succeed abroad, because exporting creates jobs, delivers growth and drives innovation – both at home and abroad, among our partners and allies".