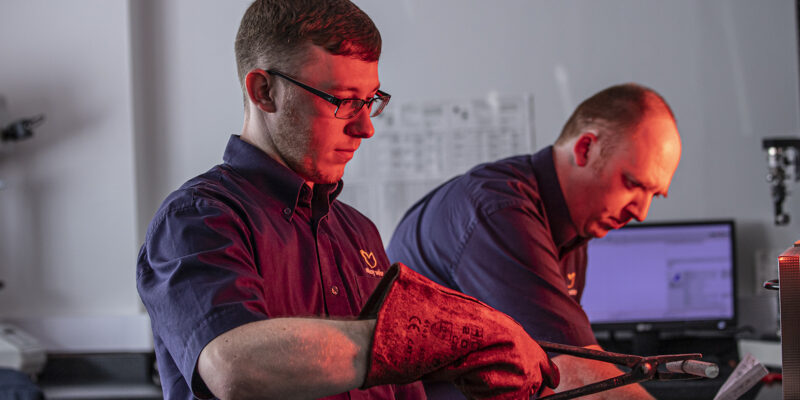 All staff at a leading manufacturer of round, flat and profile wire are now shareholders thanks to a recently completed Management Buy-out (MBO).
Alloy Wire International (AWI), which has two sites in the West Midlands and Yorkshire, was purchased by Directors Tom Mander, Andrew Du Plessis and Adam Shaw in January, with the new management team immediately extending the firm's Employee Ownership scheme to include all 33 employees.
It has been a long-term commitment that first started in 1999 when Bill Graham fulfilled a 23-year vision of putting staff at the heart of the business by giving them share ownership and, importantly, the same opportunity to benefit from its growth.
The 'people first' approach has certainly paid dividends with AWI going from £1m in 2000 to £12.8m at the start of 2022 and impressive sales putting it on course for nearly £18m by the close of the year.
Tom Mander, Managing Director, commented: "Bill's decision at the start of the millennium gave us a distinctive edge to our business and this was something Mark Venables took on when he led the previous MBO in 2013.
"Working our way up in the business, we have seen first-hand what the employee ownership scheme has meant and the sense of commitment and pride it brings. It was a natural decision to use our own MBO to include the new members of staff and get all 33 employees on the same scheme."
He went on to add: "There's a real togetherness across the business, with employees also enjoying a renewed profit share, dividends, and Bupa UK membership. Customers even comment about the family atmosphere when they visit."
Alloy Wire International manufactures round, flat and profile wire in over 60 Exotic alloys, such as Inconel, Monel, Hastelloy, Nimonic and Waspaloy.
Founded in 1946 by John Stockdale in an old ambulance station in Old Hill in the Black Country, the company's founding principles of 'manufacturing quality, delivering reliability' has stood the test of time and remains a crucial part of how it deals with its international customer base.
Today, the firm continues to operate across 15 different market sectors and, despite global supply chain disruption, is still delivering material in just four weeks from the order being placed.
It continues to invest in its stockholding of 400 tonnes of material, whilst a number of new machines will arrive during the course of the year to boost capacity and maintain growing demand.
Adam Shaw, Finance Director, picked up the story: "Employee ownership is a growing trend, but we've been doing it for many years.
"Staff feel more tied into the business in a positive way because they are directly rewarded for the work they do, which produces a sense of fairness and, in turn, creates a tighter community amongst employees."
Andrew Du Plessis, Technical Director, concluded: "What does it give us as a business? Low absenteeism, excellent staff retention, loyalty and it makes us attractive to new people who may want to join our journey – a journey that currently sees us export to more than 70 countries across the world."