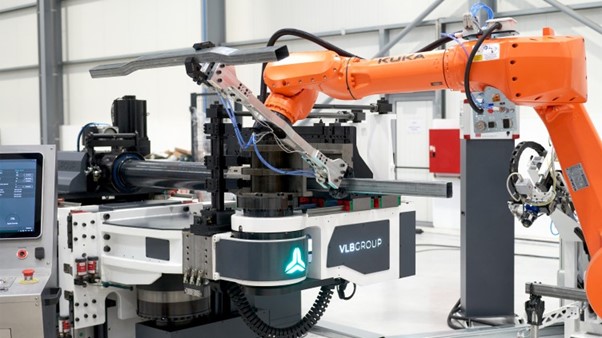 VLB Group UK Ltd aim to lead with advanced solutions, new trends and technologies for automotive manufacturing.
Demand is growing to a report by S&P Global Mobility, it expects the global sales of new vehicles will reach nearly 83.6 million units in 2023, contrary to the 66.2 million units in 2022. The innovation seen in the automotive industry is moving towards an (even) higher investment in R&D (Research and Development).
New concepts targeting the automotive sector include ecology, resources, optimization, electrification, and autonomous vehicles.
A fully automatic cell was recently installed in one of the biggest OEM automotive supply chain world manufacturers. It can receive and process with fast change time, rounds, squares, and rectangular tubes.
Tubes are fed in bundles and isolated, a unique eddy current probe detects the welding line, and a double gripper robot removes the bent part from the machine, provides the new blank tube, and downloads the bent part on the extracting conveyor.
This production cell has increase productivity and allowed 24/7 capability. Besides, it incorporates state-of-the-artindustry 4.0 VLB 3D Software.
After one of the most demanding periods in modern times, the automotive industry is reinventing itself, and VLB Group is actively working to solve problems, creating solutions and concepts, both on mechanical and software approaches. Helping manufacturers to adapt quickly, improve efficiency, reduce downtime, promote flexibility, and respond to fast changes in the market.