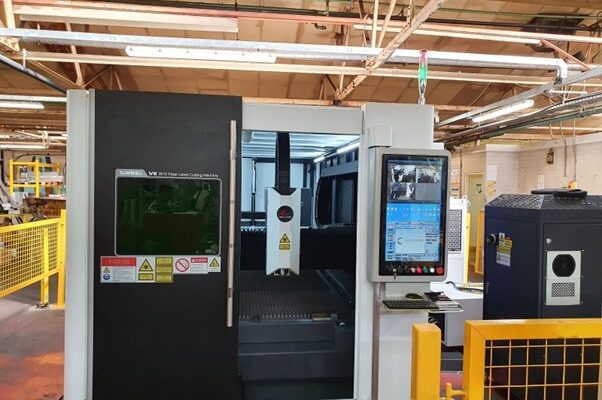 General machining and fabrication specialists, W&H Engineering LTD of Leigh-on-Sea, Essex – have recently taken delivery of a brand new 4kw fiber laser cutting system from Penta Laser UK together with an MSS Group Nitrocube – on-site nitrogen generation system.
The fiber laser system supplied by Penta Laser UK is a Swing VII 4kw 3015 fiber laser featuring IPG laser source and Precitec cutting head technology. The Nitrocube system produces 25ppm purity (99.9975%) nitrogen for the new 4kW Penta fiber laser plus an existing Trumpf CO2 system.
Terry Edwards (Ted), Production Manager at W&H Engineering LTD comments 'This new Penta laser offers us major efficiency benefits with significantly reduced running costs and incredible production speeds compared to the older system it replaces.'
Ted continues 'W&H and Penta Laser UK are quite new to each other but so far the relationship is working very well, both the Penta Laser and Nitrocube have been brilliant for us, the first 6 months operating them have flown by with no issues which is really impressive for new equipment like this, we are fully confident that The Penta and Nitrocube will both give us many years of reliable service'
The new Penta system replaces a Trumpf L2510 CO2 laser and offers an impressive 70% saving on energy costs as well as offering highly flexible nesting design software options including Lantek Expert CNC control software.
Chris Smith at Penta Laser UK comments 'this impressive laser system offers all the functionality, performance and quality that much more expensive fiber laser systems provide. The addition of the Nitrocube system also gives W&H the lowest-cost nitrogen on the market combined with the convenience of on-site nitrogen on tap without regular gas deliveries. Both systems combine to provide impressively low operating costs for W&H'.
The Penta range offers laser powers 2kW-60kW and cutting bed sizes from 3×1.5m to 12×2.5m.
Penta Laser UK Ltd