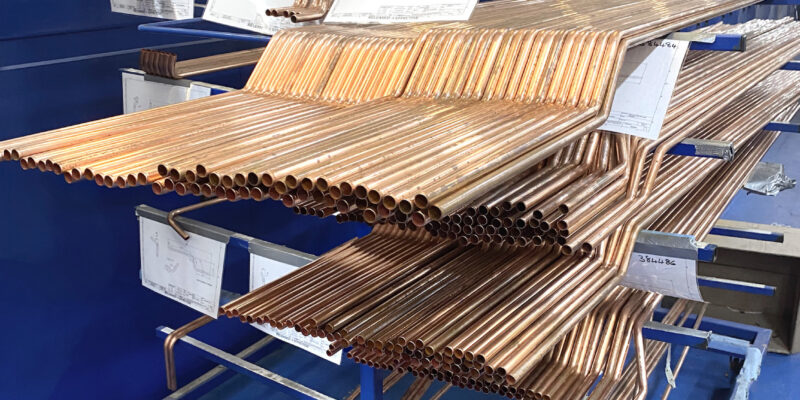 For air-handling specialists TROX UK, manufacturing a chilled beam air handling system for use in the 'smart building' refit of London's iconic, 17-storey Space House office development required a solution almost as striking as the building's 1960s design. That solution came in the form of a manually operated EvBend 1000 CNC tube bender from UK-based tube and pipe bending machinery manufacturers, Unison Ltd. 
With a conventional ducted HVAC system considered impractical, as it would significantly reduce the ceiling height of each floor in the 255,000 sq. ft. circular Space House building, TROX UK was asked to create a chilled beam solution that would be concealed between each of the ceiling coffers that radiated outwards from the centre of the structure. With 17 floors to consider, as well as a link bridge to an adjoining office block, however, that equated to some 2,500 chilled beams, each containing four water coils served with hot and cold water by standard 15 mm copper pipe.
"It's fair to say that the complexity of the project presented very real manufacturing challenges," says Martyn Mills, chief design engineer at TROX UK. "In reality, we were looking at a task that would involve some 15,000 metres of copper pipe, with approximately 50,000 soldered joints. Even if they could be recruited, the number of plumbers required to cut the copper pipe to size and solder the joints – never mind the associated cost – would be considerable. Additionally, such a large number of soldered joints would clearly increase the likelihood of leaks – and that was a risk we weren't prepared to take. Hence, we took the decision to see if a suitable, capable, high-quality CNC tube bending machine existed. When we'd looked in the past, we couldn't justify the cost. However, after a little bit of online research, we came across the EvBend 1000 manually operated CNC machine from Unison Ltd."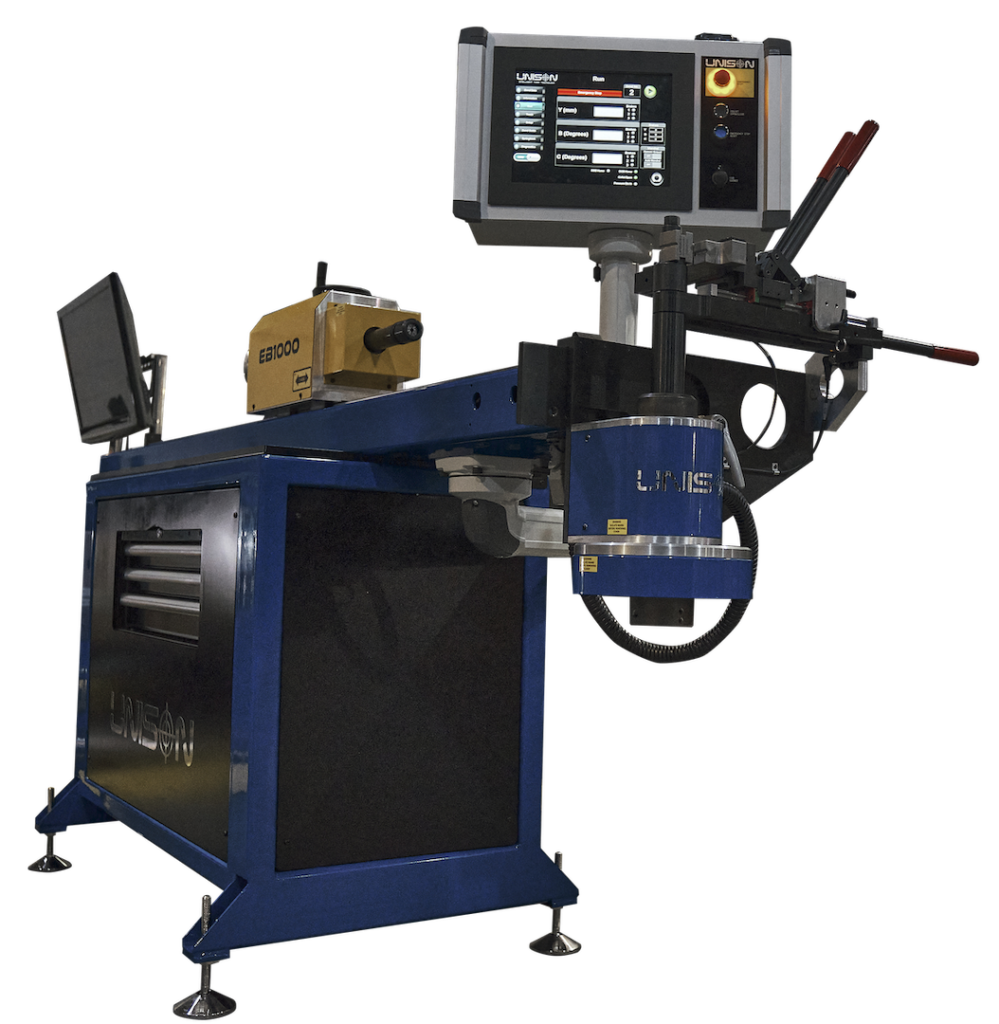 A meeting with Unison's key account manager, Steve Haddrell, and a machine demonstration convinced the TROX UK team that the Unison EvBend 1000, a machine widely used for bending precision components across the aerospace and motorsport sectors, would more than meet its needs. Due to the urgent nature of TROX UK's requirement – it was April 2022 and the business needed to be producing bent pipe by early August – Steve arranged for them to take delivery of an EvBend 1000 machine that had previously been on display at a machine tool exhibition. Reconfigured with a longer bed to take copper pipe of up to 3 metres in length, the machine was installed at TROX UK's Norfolk manufacturing facility in early July, with full training provided.
"Following guidance from Unison Ltd and a fairly steep learning curve in bending copper pipe, we got off to a flying start," adds Martyn Mills. "In fact, we were confidently producing accurate and repeatable offset bends within a few days – bends that would otherwise have involved an awful lot of pipe-cutting and soldering. Our Unison EvBend 1000 machine is simple to programme, easy to use, and cost us less than £40,000. Between August last year and March 2023, the TROX UK production team successfully bent no fewer than 20,000 lengths of copper pipe, enabling the manufacture of all the chilled beams required for Space House to be completed well within time. Using the EvBend 1000 also halved our production costs, meaning the machine paid for itself over the course of the project. Perhaps, most importantly, with a highly capable and versatile manual CNC pipe bender on site, we are now better equipped for the most challenging of HVAC projects. In fact, we have incorporated the EvBend's capabilities into our design for manufacture production strategies."
"It was a pleasure to supply TROX UK with a new Unison EvBend 1000 machine," adds Unison Ltd's Steve Haddrell. "While we typically recommend EvBend models for specialist, low-volume applications, such as those found in aerospace, Formula One and the oil & gas industry, it was rewarding to see that our manually operated, CNC-controlled tube bending machine is equally suited to pipe bending challenges such as those faced by TROX UK – and all for a fraction of the cost of a fully automated tube or pipe bending machine."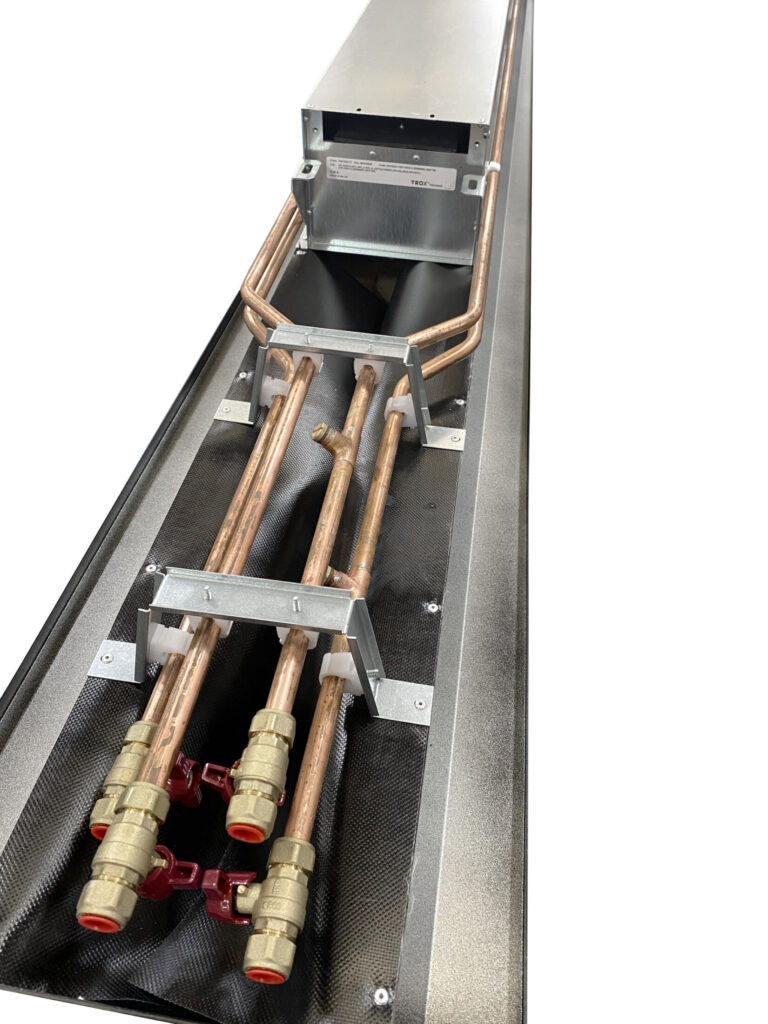 The Unison EvBend 1000
Unison's EvBend 1000 is a high-precision 3-axis machine that was developed to reduce the entry cost to precision rotary draw tube bending. The machine combines manually operated feed, tube rotation and bending force, with CNC-controlled braking on the carriage feed, rotation and bend arm axes. Typically used for low volume, high-accuracy production and prototyping, Unison EvBend machines offer accurate multi-plane bending at a much lower cost than many CNC benders. Two models are currently available – the EvBend 1000 for bending tube of up to 16 mm in diameter, and the EvBend 2000, a machine featuring power-assisted operation and capable of bending tube of up to 50 mm in diameter. The EvBend CNC control includes a PC-based 15" touchscreen and is capable of processing up to 100 bends per component.