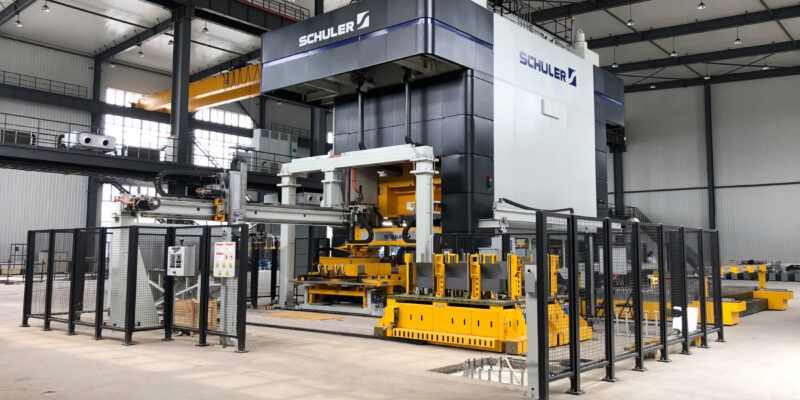 With its modular presses, Schuler provides the right answer to the challenges of the supplier industry.
No other company can look back on as much experience in press manufacturing as Schuler with its more than 180-year corporate history. In the metalworking industry, however, it is unlikely that so many challenges have ever had to be met at once. Automotive suppliers are playing an increasingly important role; many innovative technologies, for example to comply with the strict EU emission limits, can be traced back to them. For these and other customers, Schuler has developed the Triton modular press series, which has become established on the market.
"Every stamping and cutting system that leaves our production sites is now a Triton press," says Schuler CEO Frank Klingemann, who heads the Industry Division. "With our Triton series, we are a strong and reliable partner because we provide our customers with a future-proof concept for mastering current and upcoming challenges," adds Oliver Beisel, who heads the stamping and cutting system unit.
Speaking of digitization: machine applications can be installed on Triton presses at any time to enable central monitoring and continuous, data-based optimization of availability and die use, among other things. The applications provide information for predictive analyses, offer direct access to sensor data and update themselves automatically. Apps such as the integrated OptimizerPro and the optional Smart Assist ensure short makeready and setup times with maximum productivity.
Speaking of sustainability, Triton presses offer a long service life and reduce die and material wear to a minimum thanks to the robust and precise machine design, high load-bearing pressure points, a high reliable off-center load capacity, and low bounce and deflection. The standard integrated Ecoform package reduces the need for energy, lubricants and wear parts. Schuler produces the Triton presses themselves in the site closest to the customer. This reduces transport distances.
Speaking of skills shortages: presses with ServoDirect technology are highly efficient, but not every operator can take advantage of the numerous possibilities right from the start. The Smart Assist electronic assistant makes it quick and easy to achieve maximum output. Thanks to outstanding user-friendliness, extensive automation and seamless IoT integration, TRITON presses offer state-of-the-art workplaces that are fit for the future.
Speaking of flexibilization: Press shops are usually geared to large quantities in series processes. Triton presses are also ideally suited for small batch sizes thanks to their high degree of automation, standardized interfaces and consistent operating concept. From the coil line and blank loader to the press and transfer to the outfeed conveyor, everything is optimally coordinated – a complete system from a single source.
The modular series includes systems with both conventional flywheel and servo-mechanical drives. The press forces range from 2,500 to 32,000 kN, the table sizes up to a length of 8.20 meters. "Designed as a monoblock, in tie-rod construction or the innovative TwinServo technology, Triton presses offer individual solutions for a wide range of production requirements and numerous design advantages geared to the future," summarizes Director Global Stamping & Cutting Oliver Beisel.