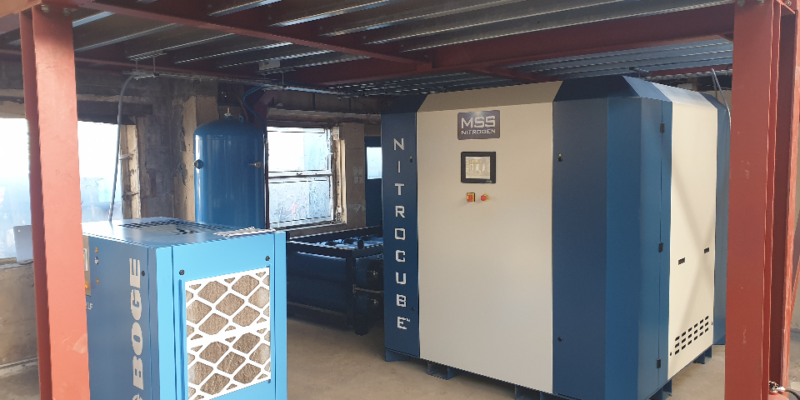 Structural & Architectural steelwork specialists MJ Allen Metalwork have recently taken delivery of a new MSS Nitrocube 2 high pressure nitrogen generation system at their new site in Kent. The Nitrocube system is to be used to provide onsite nitrogen generation to supply MJ Allens high performance 4kW Fiber Laser cutting system.
MJ Allen have been using bulk liquid nitrogen from traditional gas suppliers, Mike Allen Managing Director at MJ Allen comments 'We are committed to reducing our carbon footprint in line with our Group targets for 2030 and our plans to support greener British manufacturing. Transitioning towards the low carbon economy requires greater control over our fuel cost and supply, and the Nitrocube system provides an excellent solution.; we have now stopped all the regular gas deliveries that we had previously with the bulk tank and saved costs. The Nitrocube installation has also freed up valuable space in our yard as we can now remove the large gas storage tank that was needed previously'.
The Nitrocube 2 system provides high pressure nitrogen up to 300 bar at 99.9975% purity which comfortably meets the application requirements of the fiber laser. The new system is very compact footprint of 2.2m2 and features integrated high pressure storage tanks. The latest generation Nitrocube is more efficient than ever using 25-40% less energy to generate higher purity nitrogen than achieved with older systems were capable of.
Mike commented that 'the installation work went extremely smoothly, MSS planned all aspects of the work to minimise disruption and got us back up and operating again more quickly than I expected, the Nitrocube gives us great confidence in our nitrogen supply'.
MSS Sales Director, Chris Smith commented 'this is great example of how the Nitrocube system suits sites with restricted space and provides costs savings for single laser users'.
Chris also comments 'the latest generation MSS Nitrocube is the most compact and most flexible system available anywhere in the world, we have over 400 systems like this installed in the UK already and the popularity of this product is growing very quickly in a number of important overseas markets as well, this latest product incorporates all we have learnt from high pressure nitrogen systems for laser cutting applications over the past 20 years'.