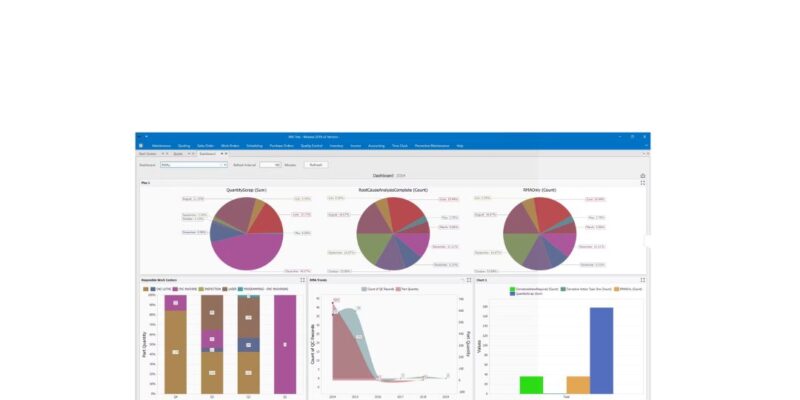 Want Full business transparency in real time wherever you are? MIE Solutions has the answer!
Technical Director Chris Mann explains 'MIE Platform has opened up endless possibilities in terms of customisation and bespoke applications. The concept of accessing reports and KPI's via a web browser was a feature requested by many existing customers. Due to the fast paced world we live in, portability is becoming more and more sought after, and so with MIE Web Dashboards, users can access key information regardless of if they're at home, on the road, or in a meeting off-premise".
With Key Performance Indicators (KPI's) being instrumental in driving change and improvements throughout some of the most successful companies in the world, ERP supplier MIE Solutions offer a web based version of their Dashboard module; making key information more accessible than ever before.
The company's web based services API platform which enables the company and third party developers to program custom applications to integrate directly with their ERP package – MIETrak Pro. MIE Web Dashboards expands upon the well established MIE Dashboard module within MIETrak Pro by enabling KPI's and reports to be viewed via a web browser. 
All KPI's on the dashboard are fully customisable per business and even per user and come with an automatic email functionality, so if for instance every morning you want to track order progress v's the lead time given this can be waiting in your inbox at 7am. Other popular KPI categories include stock control, employee efficiency, sales profitability, and quality control metrics. We have many customers who also choose to display their KPI dashboards on screens throughout the shop floor to keep the whole workforce in the loop. 
The development of MIE Web Dashboards will not only benefit a company using MIETrak Pro, but also any company that they themselves deal with. 
Sam Hawkes, sales director, explains how MIE Web Dashboards will also benefit companies both up and down the supply chain "Most of the features we develop often only directly benefit MIETrak Pro users. MIE Web Dashboard is an exception to the norm due to the fact that companies can, as an example, give their own customers or suppliers live access to reports and KPI's of their choosing by essentially giving them access to MIE web dashboards using secure, password protected login credentials."