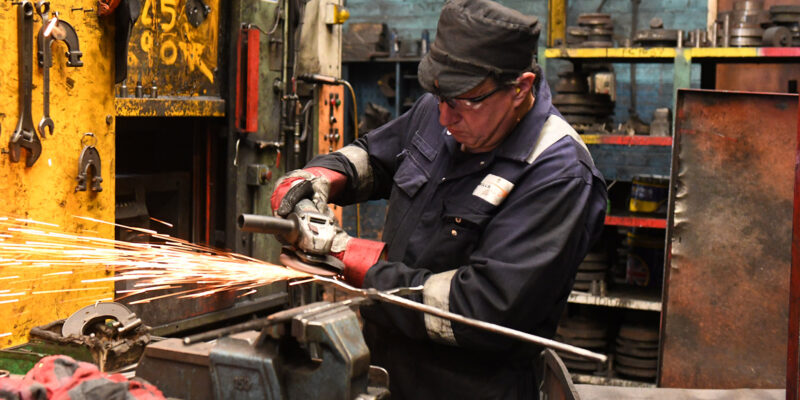 A group of manufacturers committed to promoting UK industry is urging the Government to throw its weight behind a growing reshoring trend that has the potential to deliver £millions of new opportunities.
Bosses at the Manufacturing Assembly Network (MAN), a collective of seven sub-contract manufacturers and an engineering design agency, believe the country has a once-in-a-generation opportunity to bring back work from low-cost countries as the demand for taking risk out of the supply chain intensifies.
Importantly, there has also been a change in mentality with more OEMs considering both geo-political risks along with the full 'landing price' of the part and this is making domestic companies competitive with international rivals.
Rowan Crozier, CEO of metal stamping specialist Brandauer, has seen this first-hand after securing over £500,000 of new tooling projects in the past twelve months, projects that were previously carried out in the Far East and the EU.
Better still, the business has a further £1m of potential opportunities in the pipeline and, with an increasing number of companies looking for security of supply, it is a trend that Crozier believes is just beginning.
"We've been talking about reshoring for some time, but the good news is we're finally seeing the hyperbole turn into real orders," commented Rowan.
"Despite the challenges and complications of Brexit, there has been a definite shift towards more UK sourcing of precision tooling and that has certainly been driven by an overwhelming desire to shorten supply chains.
"De-risking supply is high on the list of priorities after the disruption we've seen because of geopolitical pressures, Covid-19 and, more recently, a global lack of materials.
Rowan, who has invested more than £1m into new Yamada and Bruderer presses to cope with an increase in demand, went on to add: "However, the interesting conversation that we haven't had before is that domestic manufacturing is now as competitive as our international rivals.
"And this is all about the price of the landing part – so the total cost of a product on its journey from the factory floor to the customer. When you take this overall picture into the equation, there is no reason UK manufacturers can't be bolder when going after international opportunities."
It's a train of thought that is echoed by Hamish Campbell, Sales Manager at KimberMills International in Cradley Heath.
The manufacturer of high-quality forgings and finished machined parts has also seen a surge in export orders, primarily from the oil and gas and construction markets.
Both firms are members of the Manufacturing Assembly Network (MAN) and key signatories to the MANifesto, a new blueprint for making the UK globally competitive and a direct response to a lack of a coherent industrial strategy from our Government.
The collective launched the plan of action in May and is lobbying the powers at Whitehall to provide additional support towards the four key pillars of investment, people, sustainability and Net Zero and international trade.
"We have seen the damage offshoring has done to UK manufacturing, now is the time for us to reverse the trend," explained Hamish, who has worked in industry for the last thirty years.
"There's a lot of things we can do ourselves as manufacturers, but we also believe it is important that the Government understands the situation. Yes, reshoring is happening, but if we are going to sustain it then there needs to be a concerted push to support sectors that are growing.
"This could be by building OEM presence in the UK or ensuring that there is more domestic content in the development of products for electrification for example. Encouragingly, we do have a model to follow in the defence industry, where we lead the world. There's no reason why a similar approach couldn't be easily replicated for other markets."
Another important element of the MANifesto is a unified call for a replacement for the business support programmes that have closed due to EU funding ending.
This leaves a significant void for SME manufacturers who previously have been able to access grants or specialist industrial advice to help them overcome challenges and maximise growth opportunities.
Rowan has been banging the drum for swift action: "We're sorely missing structured business support and the way in which the UK Shared Prosperity Fund (UKSPF) is being delivered at a local authority level could lead to a postcode lottery at best, and at worst, assistance that is too general and doesn't really understand or get industry.
"Action must be sooner rather than later. We've got some existing schemes, such as the Manufacturing Growth Programme, that have a proven track record in successfully supporting businesses like Brandauer and KimberMills to grow. There's no need to reinvent the wheel."
Hamish concluded: "It's simple. We've got a once-in-a-generation opportunity when it comes to reshoring, let's not follow the same course of action we did in the 1990s and 2000. Now is the time to deal with the long supply chain risk issue and write the most positive chapter in our industrial history.