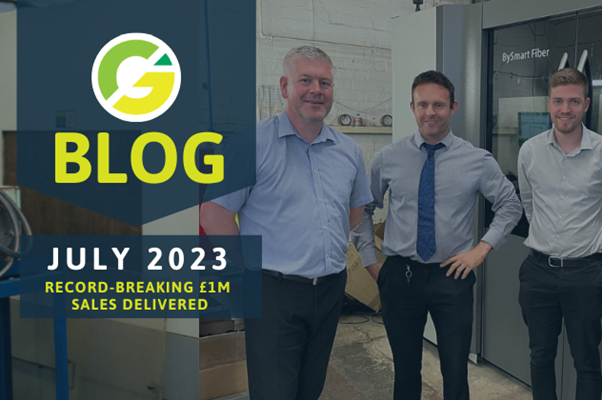 Grenville Engineering are thrilled to announce they have reached an extraordinary milestone, achieving record-breaking million-pound sales in June. This momentous achievement is a testament to our incredible team's unwavering commitment to excellence and steadfast dedication to customer satisfaction.
At Grenville Engineering, success is a team effort, and our exceptional team members have worked tirelessly towards this ambitious goal. Their unwavering commitment, hard work, and expertise have propelled us to new heights, firmly establishing us as frontrunners in the steel fabrication industry.
We extend our heartfelt gratitude to our valued customers, partners, and supporters who have trusted us and contributed to our remarkable growth. This achievement would not have been possible without your continued support and collaboration.
Stuart Rawlinson, (Sales Director), expressed his excitement about this record-breaking milestone, saying, "We are thrilled and proud to announce this achievement. It is a testament to the dedication and perseverance of our team, as well as the trust and support of our customers and partners. We owe this success to their unwavering commitment and belief in our company."
As we celebrate this momentous occasion, we eagerly look ahead to the future with great excitement and optimism. This milestone serves as a springboard for even more incredible accomplishments as we continue to innovate, evolve, and exceed our customers' expectations.
Our steadfast focus on excellence has positioned us to continue our upward trajectory and solidify our position as a leader in the industry. But that's not all—our commitment to growth and innovation has led us to invest in state-of-the-art technology. With new investments in robotic welding which was commissioned in June, and the tube laser which is due to be installed in September, Grenville is better equipped than ever to achieve its goals and provide cutting-edge solutions for our customers.
As a renowned sheet metal fabrication company specializing in laser cutting, metal punching, sheet metal forming, metal welding, grinding, and finishing, Grenville Engineering has built a reputation for delivering quality solutions and ensuring customer satisfaction. This record-breaking achievement is a testament to our industry leadership and dedication to our customers.
We are immensely proud of this milestone, which is a continuation of an inspiring journey filled with countless more achievements to come. Thank you for being a part of our success story!