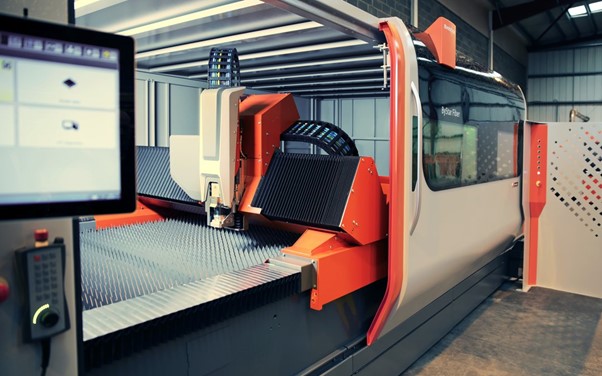 Laser profiling & sheet metal bending specialists Accurate Laser Cutting (SJS) have dramatically improved their processing capabilities by adding a brand new Bystronic 8kW fiber laser to their plant.
Based in Rotherham, the firm are a leading sub-contractor of high quality laser cut profiles & pressed metal components. Their new £650,000 investment in a Bystronic ByStar 3m x 1.5m fiber cutting system replaces their previous 4.4kW CO2 laser. It will operate in conjunction with their 3.1m 160 tonne pressbrake facility & in-house CAD department to offer customers a complete metal profiling service.
HIGH SPEED ADVANTAGE
The fiber laser comes equipped with a powerful 8kW laser source to offer a significant increase in cutting speeds, accuracy & quality across the entire material & thickness range. Their newly improved processing capabilities now include up to 30mm stainless steel, 30mm aluminium, 25mm mild steel, 12mm brass & 10mm copper.
"We are looking at a phenomenal increase in processing speeds on thinner gauge materials, with the new ByStar machine cutting up to three times faster than our old Co2. For thicker plate, the equipment is just as efficient & edge quality is just as good." explains company director Stephen Rolfe.
"This enhanced capability combined with our 24 hour capacity helps satisfy our customer demands for quicker deliveries & slicker service. Orders can be ready for delivery in as little as 24 hours & in some cases a same day cutting & bending service is available, making our fast turnaround service ideal for rush orders."
NEW OPPORTUNITIES AHEAD
Highly reflective materials such as copper & brass can now be cut with ease using the new fiber machine. "With previous processing limitations of just 2-3mm using our CO2, we often had to turn away this type of work, whereas now we have the versatility to cut thicker, reflective materials to a superior standard." Mr Rolfe comments.
The risk of any burrs & defects during the cutting process is now also greatly reduced, helping customers to avoid the expense of further finishing processes.
The equipment can also clean cut mild steel up to 8mm thick, which is set to offer customers a vast improvement in cut quality. With previous Co2 limitations of up to 3mm, this improved capability is beneficial to customers who require an oxidation free edge on their parts.
"We are extremely pleased to have our 8kW fiber laser now in full production at Accurate Laser Cutting (SJS). For us to continuously reduce our lead times & offer improved levels of service to customers, we believe having the very latest production technologies on-site is the key to success."
Our ongoing commitment to invest will not only help us in delivering a competitive edge but will also accommodate our exciting growth ambitions for the foreseeable future." Mr Rolfe concludes.
Accurate Laser Cutting (SJS)