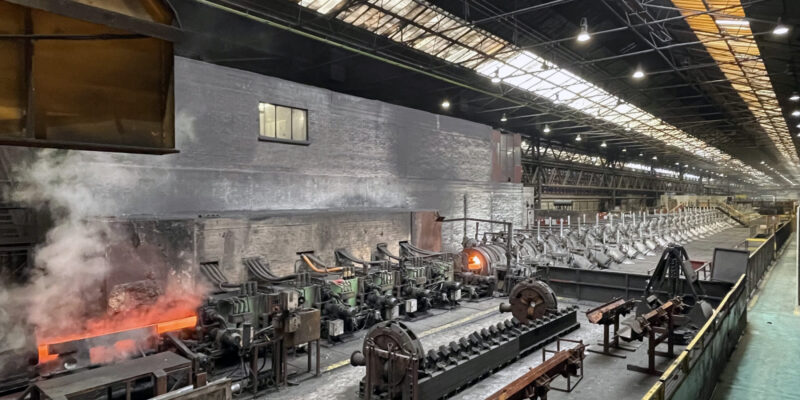 A £5 million investment in state-of-the-art electric induction furnaces will reduce emissions from one of Tata Steel's tube mills in Corby by at least 2000 tonnes of CO2 a year.
Works Manager Gary Blackman said: "This is the first part of our extensive plans to make the Corby site CO2-neutral in line with Tata Steel's declared environmental ambitions of becoming net zero globally by 2045. It also forms part of our sustainability commitment that encompasses the wider topics of biodiversity, material efficiency and sustainable products."
The Stretch Reduction mill (SR2) takes 169mm diameter steel tubes and heats them to around 1100°C before they are stretched into hollow sections as small as 40mm diameter with wall thicknesses as thin as 3.2mm.
Gary continued: "The line produces our premium branded product Celsius® in rectangular, square and round sections that is used extensively in mechanical applications such as tow bars, tower cranes and even ski lifts."
Project Lead, Paul Ilko added: "The new induction furnaces will replace the original ones that first came into operation in 1980, since which the mill has produced around 2.5 million tonnes—or over 200,000km—of tubes in its lifetime: enough to stretch around the world five times.
"The improved efficiency of the new electric furnaces means we'll need less pre-heating from the gas-fired furnaces and therefore fewer associated emissions. At the same time, as part of our sustainability commitment, we aim to move our electricity supply towards low-carbon, renewable sources in due course."
Paul continued: "Working with our supplier, Inductotherm Heating and Welding Ltd., we will carry out the work in a two-week period at the end of October 2023."
Adrian Cullum, Sales Manager from Inductotherm Heating and Welding Ltd. added: "The induction process is renowned for the precision and repeatability in metal processing. We'll be replacing the existing Radyne units with 12 upgraded Inductotherm induction heating coil assemblies along with associated electrical infrastructure, cooling systems and process control gear.
"The upgraded units will offer Tata Steel a more technically advanced and energy efficient equivalent replacement."
Gary Blackman added: "We have some very exciting projects underway at the Corby site, which will reduce our impact on the environment, give better quality and reliability for our customers, and help to sustain the business for many years to come."