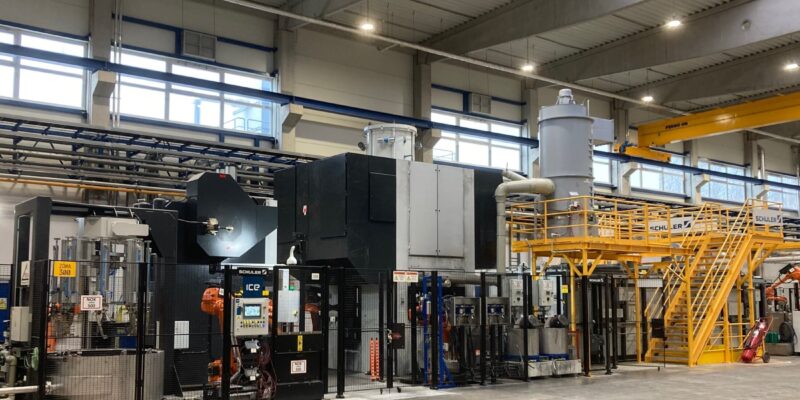 Manufacturer of aluminum chassis parts orders 5,000-ton scotch yoke press for production site in Bruntál, Czech Republic.
Just last year Schuler installed a fully automated forging line at Strojmetal's site in Bruntál, Czech Republic, and now the next order follows: the manufacturer of aluminum chassis parts has again ordered a scotch yoke press from Farina, but this time with a press capacity of 5,000 tons instead of 2,500. This significantly increases the range of parts that can be produced on it.
"This order is the result of a partnership and trusting cooperation with Strojmetal, as established during the exemplary project handling for the first line, and underlines our position as market leader for aluminum forging lines in a rapidly growing market," announces Schuler CEO Frank Klingemann, who heads the Industry Division.
"Schuler is not only an important supplier for us, but also a strategic partner for expanding our product portfolio," explains Miroslav Zahorec, Chief Financial and Production Officer of the MTX Group, to which Strojmetal belongs. "The new line will give us significantly more flexibility in the production of wishbones, swivel bearings and similar forgings."
Schuler subsidiary Farina has been building scotch yoke presses since 2005, which unlike conventional forging presses do not require connecting rods. As a result, the line not only builds lower than conventional machines, its all-around closed body also achieves high rigidity values. The raised guides also allow high off-center forces during forging.
The new forging line for Strojmetal complements the operations in Kamenice and Bruntál. As the tenth line, it rounds off the company's automotive product portfolio. "We are now a full-range supplier in the heart of Europe that can offer all aluminum forged parts in cars," adds Andre Materne, Managing Director of Strojmetal Singen GmbH.